Sleep is one of the most crucial elements in leading a healthy, stress-free life after eating and exercising. Ask anyone who has recently purchased a high-quality mattress, and they'll most probably go on about how transformative and rejuvenating that experience was.
While most people believe that a top-quality, feature-packed mattress costs an arm and a leg, that is not always the case. This post attempts to disprove this notion by listing the top 10 mattress brands that offer excellent products at reasonable prices.
1. Koala Mattress – Best Value For Money
With over 39,000 five-star ratings and the distinction of being Australia's most-awarded mattress, Koala deserves to be at the top of this list. Koala has unveiled two new mattress products and an improved version of the first model. 
Its new mattresses have exceeded customers' expectations, incorporating cutting-edge technology that makes them very comfy. The KloudcellTM Foam technology is included in all three mattresses, which helps regulate temperature and guarantees that the mattress will provide the ideal temperature regardless of the surrounding temperatures.
Koala mattresses are one of the most versatile and will work for most people. And you can alter the mattress to suit your sleeping needs and aesthetic qualities. In addition, you can test the mattress's moderate support in just ten minutes.
This mattress is durable and comes with a 10-year warranty, so we strongly recommend it. 
Features
The product type: Foam

Firmness level: Medium (5)

A 10-Year warranty

The test period is 120 nights

Offered sizes: Double, Single, King Single, King, and Queen

2. Emma Mattress – Best Pocket-Friendly Mattress
Emma mattresses, a famous German-manufactured mattress brand, has customers in at least 21 nations on five continents. Although this brand recently made its way into the Australian market, it has already won over 30 consumer awards. In June 2020, the Emma mattress received a Top Spot award from CHOICE, Australia's leading consumer advocacy group.
The mattress is a standard-size bed that offers pressure release and body alignment thanks to its exceptional three layers, which are all OEKO-TEX-certified. This mattress has "temperature-regulating and flexible layers" features constructed from "moisture-wicking materials" for zero excessive heat and partner disturbance. 
In addition to a 100-night trial window, this mattress has a 10-year warranty. Also, it has up to 7 support zones to distribute pressure in all sleeping positions evenly and a support point-elastic foam that targets the lower back.  
With a price of just $799, its Queen size option is ideal for those on a limited budget and is the finest queen mattress available. These mattresses are lighter than typical (Queen size weighs 28 kg) and still offer enough body support, which is an intriguing feature. 
Despite the brand's application of environmentally friendly foam, transporting the products over long distances generates significant amounts of carbon emissions into the atmosphere than locally manufactured mattresses — probably the only disadvantage of these mattresses. 
Features
Product type: Foam

Firmness level: Medium Firm (6)

It has a ten-Year warranty

Test period: 100-nights

Offered sizes: Double, Single, King Single, King, and Queen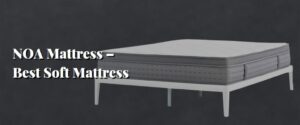 3. NOA Mattress – Best Soft Mattress
Lightweight individuals can take advantage of soft mattresses since they place less pressure on the mattress and require a surface that will sufficiently collapse beneath their weight. Side sleepers may also prefer these mattresses because they promote better spinal alignment by allowing the shoulders and hips to sink in.
Mattresses from NOA are hybrid products that start with a permeable Tencel pillowtop and blend cooling gel memory foam and cozy open-cell latex for more plushness. Firm pocket springs designs are the best soft mattress available on the Australian market. 
The NOA brand is committed to sustainability — its latex cover and detachable antibacterial layer are OEKO-TEX certified. Besides, REACH regulation has also certified the gel-infused memory foam.
Consumers on the Product Review rating sites stated that they felt cuddled by the mattress, despite NOA rating its degree of firmness as a solid 7, indicating an even softer surface. This mattress has a 120 nights trial period — enough for you to make up your mind and return it if it isn't the ideal fit.
Features
Product Type: Hybrid

Firmness level: Firm (7)

It has a 15-Year warranty (limited)

The test period is 120 nights

Offered sizes: King Single, King, Queen, Single, and Double
4. OneBed Mattress – Best Memory Foam Mattress
By employing the most recent memory foam innovation to produce a mattress that suits everyone, this brand is considered the most excellent buy for all Aussies because this bed has a 125-night trial period and a 15-year warranty.
Memory foam provides a soft and velvety sensation during sleep, making them one of the most preferred bed materials in recent years. However, some sleepers may find memory foam to be overly soft and may overheat.
The product has replaceable layers that let clients select between a medium, medium-firm, or firm top surface, helping to overcome challenges like overheating. The four-centimetre latex layer regulates heat while promoting breathability and cooling. Their rigid polyurethane covers offer support and durability, while the elastomeric memory foam reduces pressure and helps your body settle in.
These three layers are a practical, machine-washable cover with roomy, cozy polyester dimples. The OneBed mattress passed the test, thanks to the memory foam and latex mix, like other memory foam mattresses. This makes it a fantastic option for couples, mainly if one or both are light sleepers and their sleep can be disturbed by small movements.
Additionally, this mattress is one of the few on the Australian market that you can use with an adjustable bed foundation.  
Features
Product Type: Foam

Firmness level: Medium Firm (6)

A 15-Year warranty (Limited)

Test period: 125-nights

Offered sizes: Single, Long Single, King, King Single, Double, and Queen
5. Ecosa Mattress – Best Kid-Friendly Mattress
Finding the ideal mattress for your children may be difficult since parents want them to be comfortable and keep their kids' alignment as they sleep. The ultra-breathable pin core holes in the Ecosa mattress, which eliminate additional heat and improve air circulation, are the key feature that makes this mattress best for children. The deeper sleep periods are when kids tend to warm up more, but night sweats are a thing of the past with this mattress.
Parents no longer have to worry over bedwetting and beverage spills because of its waterproof top covers. The cover also includes microfilaments to shield your youngster from germs and dust mites.
There are three layers of foam behind the inner waterproof coating. The Fayer of the G-7 Gel memo layer incorporates gel particles into it to regulate temperature  — ergonomic support foam is another option. A layer of porous ECO-Tex foam follows the Tencel cover.
You will receive a full refund during the 100-night trial period if your kid has trouble adjusting to their new mattress, and the manufacturer will make sure the mattress is donated. The best selling point is that this mattress has a 15-year warranty, longer than typical.
The mattress is available in various sizes, including roomy Super King Mattress and plush, which is regularly nominated for the best king mattress.
Features
Product Type: Foam

Firmness level: Firm (7), Medium Firm (6), and Medium (5)

It has a 15-Year warranty (Limited)

Test period: 100-nights

Offered sizes: Single, Long Single, Super KingKing Single, Double, and Queen, King
6. ErgoFlex Mattress – Best for Back Sleepers
This product was the first mattress in a box to reach the Australian market (in 2010). The brand introduced its product in 2006 with the audacious dream of taking on the renowned TEMPUR® mattresses.  
Their 5G mattress is excellent in firmness and body alignment, two of the most vital bed features for back sleepers. The mattress offers excellent hip and shoulder support, which is necessary for all sleepers. The 5G's distinctive high-density elastomeric memory foam's upper surface is nine centimeters thick, an astonishing thickness that molds to and cradles the sleeper's body.
The nine-centimeter high-resilience foam foundation is the primary support and lifespan, while the Cool-Sleep Airflow layer controls the heat and ventilation. Back sleepers require a mattress that can relieve pressure points, which this product excels at. Their website indicated that the product is "ideal for patients with back discomfort, circulation issues, fibromyalgia, or joint and muscle concerns. 
Experts endorse this mattress because of its tremendous benefits on health. Due to the excellent sleep quality, athletes are recommended to use this mattress.
Features
Product Type: Foam

Firmness level: Medium Firm (6)

It has a ten-year Warranty (Limited)

Test period: 30 nights

Offered sizes: Long Single, Single, King Size, King Single, Double, and Queen Size
7. Eva Mattress – Best for Hot Sleepers
Australia records some of the warmest summer sessions, and it isn't surprising that Aussies prefer purchasing mattresses that would keep them cool at night.
This mattress is a hybrid with an absorbent construction that maintains the perfect temperature, making it perfect for warm sleepers. Its top layer is gel-infused memory foam, evenly distributing heat. It is accompanied by an open-cell latex foam cover that offers excellent support and eases back discomfort. 
Eva Mattress's dense foam layer offers medium to high stiffness and makes up the third layer. The product scores a seven to eight on a scale of one to ten. Its motion transmission is minimized by the mattress' five-zone pocket springs.
Strong side straps simplify transporting or turning the mattress, and the sturdy edge minimizes drooping and sinking. The mattress is offered in five sizes at relatively low prices, so you don't need to spend a fortune to get some rest.
This mattress is available online with a 120-night trial window and a 12-year warranty. Additionally, they provide next-day delivery in major Australian cities.
Features
Product Type: Hybrid

Firmness level: Medium Firm (6)

A 12-Year Warranty (Limited)

Test period: 120-nights 

Offered sizes: King Single, King, Single, Double, and Queen 
8. Sleep Republic Mattress – Best Hybrid Mattress
This mattress is the best hybrid bed in the Australian market. It was named the "Best Overall" mattress in a box in 2020. This hybrid mattress is so beautifully made with cashmere, latex, memory foam, and pocketed springs, making it easy to fall in love with. 
The brand has thought of everything, including the vibrant edge support with protective steel strings and 2,250 pocket springs spread over five body zones for you and your co-sleeper. Its cashmere cover is aesthetically pleasing and next-level soft, its gel-infused memory foam conforms to your body, and its natural latex layer increases breathability and airflow.
Most users have confirmed that thanks to this mattress, they don't experience back problems anymore, and their sleep quality has transformed. According to the majority, the mattress offers the ideal balance of firmness and softness, making it a medium/firm hardness.
Major Australian cities may receive same-day deliveries from The Sleep Republic. It comes with a 12-year warranty and a 100-night trial period. It's regarded as non-toxic by CertiPUR-US®, an organization for evaluating foam and textiles. 
Features
Product Type: Hybrid

Firmness level: Medium Firm  

A 12-Year Warranty (Limited) 

Test period: 100 nights

Offered sizes: Single, King Single, Long Single, Double, King, Super King, and Queen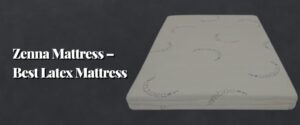 9. Zenna Mattress – Best Latex Mattress
Latex mattresses are famous for their comfort, sturdiness, and hardness; they are ideal for back and stomach sleepers. Mattresses from Zenna are the most excellent latex mattress.
This hypersensitive mattress is perfect for people who experience allergic responses. And because of their natural latex, chemical-free, biodegradable, and made from the sap of tree bark, this mattress is the best option for people who love environmental-friendly products. 
Its latex is solid and thick, offering outstanding comfort. The unique heat-wicking breathability in this mattress helps you stay cool in the summer. However, this product will let you down if you like moderate or soft mattresses that seem to embrace the body.
This mattress is much heavier, denser, firmer, and more resilient than comparable latex mattresses, but it also costs more. For example, an average queen-size mattress costs $1,500. Your calculations will determine whether or not it is worth its weight in gold.
Features
Product Type: Latex

Firmness level: Medium Firm (6)

A 25-Year Warranty (Limited)

Trial period: 100 nights

Offered sizes: Double, Queen, Single, Single Long, King Single, and King
10. Sleeping Duck Mattress
Australians hold the Sleeping Duck Mattress with high respect. The Melbourne-based business introduced its product in 2014, and since then, it has won a Good Design award for "creative product design," been named the top product by CHOICE three years in a row, and been given the Shark Tank seal of approval.
On ProductReview.com.au, this mattress has more than 3,500 five-star reviews from consumers. They preferred warmth, comfort, and overall excellent value for the money.
To accommodate your preferences and those of the person with whom you share a bed, you can get one challenging half and one medium half. For this characteristic, it most likely merits the title of our list's finest firm mattress.
Superior comfort is provided by the 5 zone pocket springs in the Sleeping Duck mattress, and the bamboo covering makes the mattress more ventilated and gentle to the touch. The regional Hyper-Adaptive foam has received CEGA approval and is eight times more absorbent than latex or memory foam. Although some customers have reported heat retention, many have experienced pain alleviation and body adaptability.
There are five sizes available for this mattress in a box, which you may buy online: single, king, single, double, queen, and king. You can alter your decision and order an alternative anytime during the 100-night trial without additional costs.
Features
Product Type: Foam

Firmness level: Medium (5), Medium Firm (6), Firm (7)

A ten-year warranty (Limited)

Test period: 100 nights

Offered sizes: Double, Queen, King, Single, and King Single
How to Choose a Mattress?
It would be helpful to offer some mattress parameters to consider when making your final selection now that you know our top picks.
1. Breathability
Every mattress must have breathability because it allows unrestricted airflow, wicks away moisture, and keeps the bed cool and dry all night. Australians, who must endure the extreme summer heat, should pay particular attention to this. Our bodies sweat and warm up when we sleep, so a good mattress should be capable of absorbing moisture and heat while still being supportive and comfortable. Your bed may become more breathable with bamboo coverings or mattress toppers packed with gel.

2. Pressure Relief
A mattress must have the proper firmness to relieve pressure points and give enough support, particularly for those with weak hips, shoulders, and backs. Finding a suitable mattress requires considering your height, age, body temperature, and preferred sleeping position. Still, all mattresses should provide sound pressure point relief and maintain a straight spine.
3. Sleep Position
It's not difficult to find the best mattresses for side sleepers. Choose mattresses with substantial comfort layers if you like to sleep on your side to allow your hips and shoulders to sink deeper into the bed and avoid strain. While stomach sleepers should choose a firmer mattress, back sleepers want a medium mattress to give both comfort and spine alignment.
4. Trial Duration
Trial runs are an excellent choice, particularly when purchasing mattresses online. You have 100 to 125 days to reconsider your decision and return the mattress, which is the industry standard. Fear not; you will also receive a complete refund.
5. Customisation
Experts recommend mattresses with adjustable firmness levels, like the Sleeping Duck mattress, which you can buy in two hardness levels if you and your bed partner can't agree on a single one. However, you can always buy a high-quality Australian mattress topper or protector if you want more comfort.
If the mattress manufacturer offers a variety of high-quality bed frames for your mattress, that may be considered part of the customisation component. They should ideally come in all sizes to provide you with the option of queen, single, double, or king bed frames.
6. Transparency
Different studies have established that all company websites were transparent about their materials and how and where their mattresses are constructed. Transparency is essential, in our opinion, especially if you're buying a mattress from their website. Brands should be upfront about their designs since some consumers only purchase environmentally friendly goods.
Frequently Asked Questions
What's a Mattress in a Box?
A mattress in a box technique delivers a mattress in a cardboard box, and a conventional mattress must first be compressed and shrunk using special equipment. Customers may easily take the mattress into their bedrooms with the help of this kind of packing, which simplifies and lowers the cost of mattress purchases.
The inconvenience of hopping from one display or retail location to another to try out several mattresses is no longer necessary. Instead, you can explore the online catalogues of mattress companies, purchase the one you want, and get free delivery. The mattress will deflate after a few hours of being unboxed.
You may always return the mattress and get a full refund because manufacturers offer a free trial period. There are 100 nights in the typical box testing period.  
Should You Buy a Mattress Online?
Yes, online mattress shopping offers advantages and disadvantages of its own. Online purchases, on the one hand, take less time and cost less money. Your alternatives are available online with only a few internet clicks, so you don't have to go all over town to get the ideal mattress. Mattresses are often delivered for free by online retailers within three to four days. For large Australian cities, some even provide the same-day delivery option.
Mattress makers often provide a 100-night trial period even if there is no place for a tryout. You may determine if the mattress checks all boxes throughout this period. Some producers, such as Sleeping Duck, provide adjustable firmness.
What's the Difference Between a Pocket Spring and an Innerspring Mattress?
Traditional innerspring mattresses include a network of linked coils to relieve pressure and boost the mattress' longevity. Individual springs are sewn into the fabric and positioned beneath the padding, memory foam, and latex pocket spring systems. The comfort increases with the number of pocket springs.
While both mattresses give support, the innerspring mattress offers superior pressure relief due to the coils' ability to move independently in response to the body mass and pressure of the sleeper. Due to the proper sinking in of the hips and shoulders, it is a fantastic solution for side sleepers and those with back discomfort. Despite being more expensive on average, pocket spring mattresses are still worth the investment. The top layer of these mattresses is made of foam or/and latex for the best sleeping experience, in addition to the pocket spring technology
What Type of Mattress Is Best for Stomach Sleepers?
Medium to firm mattresses offer the best services to stomach sleepers; they keep the spine in a neutral position. Additionally, you must turn your neck, which puts tension on your upper back and neck. So when shopping for a comfy mattress, pick one that supports the spine, shapes the body, and provides enough pushback to keep you from sinking into it.
To reduce pain, a premium mattress should also feature a pillow top or softer, plus a memory foam layer. To prevent your hips and waist from pressing into the mattress and leading to spinal misalignment while you sleep on your stomach, you should choose a medium-firm mattress.
What's the Difference Between Tempur and Other Memory Foams?
The main distinction between memory foam and Tempur-Pedic mattresses is the latter's use of a substance known as TEMPUR. Dense TEMPUR material offers far more support than the majority of memory foam while yet conforming to the body.
NASA created the original memory foam product made by Tempur-Pedic to provide astronauts with more cushioning in spacecraft. In the 1990s, Tempur foam made its consumer market debut and gained notoriety. Unlike conventional memory foam, Tempurpedic has improved over time. Newly created memory foams lack the same level of validation as Tempur.
To achieve various levels of comfort, Tempur builds mattresses using various viscoelastic polyurethane foams. In general, the heat retention issue with Tempur and memory foam has drawn criticism, which is why newer models concentrate on finding a solution.