Dinnerly is a cost-effective meal service that gives you a variety of weekly meal options to pick from.
Dinnerly benefits two groups; first, those who need assistance deciding what to cook daily and second, those who desire to cook at home more times but need more time to do that. Dinnerly recipes are well organised, with a rotation of weekly recipes and meal options that you can make in less than 30 minutes.
Kelli McGrane, the Healthline Nutrition and Fitness Market Editor, used Dinnerly,y to see if it was the program worth using for your daily meals.
Here is her report.
What is Dinnerly?
Dinnerly is a service that provides various meal options to select from and is usually renewed on a subscription basis.
It is the cheapest meal delivery service currently found in Australia, with their subscription starting from $4.99 for each serving. The service provides a rotating menu to combine your favourite dishes for the perfect recipe.
Their recipes are often below five steps and require less than 30 preparation minutes.
Each order comes with a weekly digital meal card and steps required to cook about 2-6 dishes.
What Are the Pros and Cons of Dinnerly?
Pros
It is affordable compared with other meal kits, with their subscription ranging from $4.99 for each serving.
Their meals consist of less than five steps and often need less than 30 minutes of preparation.
They encourage home-cooked meals that are very healthy and nutritious.
Their meals are often labelled (either as healthy or kid-friendly), which enables you to pick the meal that suits you quickly.
It gives you the option to skip the weeks you want.
Cons
The meal options are limited, especially for those who have allergy problems or specific diet restrictions.
Organic foods are minimal.
Low-calorie and weight-loss options are minimal.
Dinnerly uses virtual cards instead of printed cards.
It does not give you the option to alter the recipe.
How Does Dinnerly Work?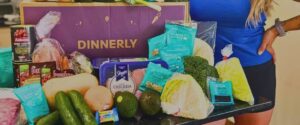 Dinnerly is a cost-effective and subscription-based service that sends you weekly meal recipe plans for your diet. The card comes with a sizeable weekly menu of more than 45 different options you can pick from. The various options are' child-friendly options, dairy-free and low-carb options.
Also, most of the meals in the subscription take less than 30 minutes to prepare without additional vegetarian, one-pot meals and gluten. Depending on your subscription plan, the recipes come with four to six recipes you can add to your meal plan. The dinners each come in four or two servings.
With Dinnerly, there aren't any contracts; therefore, you can skip the number of weeks you desire. You can also easily switch up your meal plan or pause your subscription six days before your payment date.
This Is How to Sign-up
The process of signing up is easy. First, the service provider asks you to pick a two or 4-person option, then select 3-6 meals weekly.
You can also specialise the meals to only vegetarian or based on your other preference.
Once you have chosen your plan, the next step is inputting your delivery details into the system. They include; your zip code, address, connection, and the day you prefer them to make your first deposit.
Finally, add your payment details, then pick the meals you prefer from the menu.
Is Dinnerly Suitable for All Meals?
Dinnerly has several options that suit people with different dietary preferences. The digital meal plans also include various ingredients and nutrients, allowing you to choose the plan that suits you.
They add to specify the meals that are dairy-free, vegetarian or low-carb. They also add a label to the gluten-free food. However, dinnerly does not recommend you follow these labels if you have celiac disease or any other gluten disorder, as the food could be cross-contaminated.
Dinnerly may also not be the service for you if you have more restrictions since the specific options are limited; keto, paleo and vegan are the only available special diets.
It would be best to remember that the meals are prepared in a facility that deals with various meals. Therefore this increases the chances of cross-contamination, which is risky for people with severe allergies.
How Much Does Dinnerly Cost?
Dinner is quite affordable, with meal plans ranging from $4.99-$6.39 for each serving.
Here is the 2- person meal cost for each serving;
Three meals go for $6.39
Four meals go for $5.99
Four meals go for $5.89
Six meals go for $5.79
Here is the 2- person meal cost for each serving;
Three meals go for $5.69
Four meals go for $5.49
Five meals go for $5.29
Six meals go for $4.99
Additionally, you must pay a standard shipping fee of $9.99 regardless of your meal plan.
Their prices are relatively lower than other meal plans because they use digital instead of printed recipe cards and fewer ingredients and packaging materials.
Who Tried It
My Experience With Dinnerly
Since I had used over 25 recipe services, I wanted to know how these affordable options levelled up their quality to compete with the expensive brands.
Packaging and Delivery
You will find Dinnerly in most areas across the USA, and their deliveries are done once a week. Most delivery days are done based on location, but you can still specify your delivery day during sign-up.
The orders are wrapped with insulated liners and ice packs to ensure the ingredients remain dressed throughout transportation. In my experience, my deliveries were done on a hot day, and even though the ice packs were beginning to melt, my order was still cold.
Their ingredients are loosely packed, with the most perishable ingredients placed at the bottom right next to the ice cubes to maintain freshness.
I prefer ingredients separated on a recipe basis because of convenience, which helps maintain the organisation in my fridge. But the loose box method helped cut the cost.
The best part was that the materials used to package the products could be recycled, and the information about recycling was available online.
Were the Ingredients Fresh and of High Quality?
The Dinnerly meal kits included supplies sourced from suppliers widely trusted. The company also lists all the ingredients in their meals and the most effective ways to store them to preserve freshness.
All the items I had ordered were fresh and in perfect condition. However, I noted that Dinnerly preferred pre-made foods like canned sauce or ready-to-heat meatballs more than other services did
Based on the company information, most farm products( fruits and vegetables) were topped up with fertilisers and pesticides, among other chemicals. Although this wasn't a problem in my house, it hindered most homes that prefer organic ingredients.
Preparing and Cooking the Meals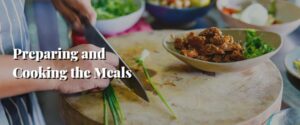 This why Dinnerly stood out among other meal-delivery services I have tried;
Recipe cards are digital: Although this option is eco-friendly and it helps cut down on production costs, it was pretty challenging to use the recipes on a smartphone; it will be easier to download the copies on a laptop or a tablet.
The recipes are short and easy to follow: Out of the three recipes I tried, with two of them, all I had to do was to pour all the ingredients into a saucepan, mix them up, let them up and cook. The simplicity makes Dinnerly ideas for people who don't like trying new recipes or don't like cooking.
With Dinnerly, you'll need to provide more than the typical essential ingredients: most meal servicers only ask you to provide salt, pepper, oil and butter. However, with Dinnerly, you'll need to go on a little extra and offer more than that; eggs, flour and garlic are the products I was asked to add.
Cooking time is less than indicated: the meals I cooked took less by about 5-20 minutes sooner than the one stated, which was a bonus for Dinnerly. Additionally, clean-up was much easier because the preparation time and steps were minimal.
Taste
I was surprised at how delicious the meals were. However, I added a few ingredients to make them more nutritious.
Here is a review of each meal;
Low-Calorie Ginger Rice Noodles: this meal was my favourite as it consisted of fresh vegetables and was not over-salty. However, the portions were small, so I added extra tofu to boost the protein levels.
Egg Noodles and Peas with Swedish Meatballs: my husband specifically loved this dish because the portions were a bit much, and the meatballs were perfectly seasoned. However, the butter in the recipe was overstated; I used half the indicated amount, but the dish was still rich in flavour.
Peas with Creamy Tomato Basil Tortellini with Swedish Meatballs with Peas and Egg Noodles: Everyone loved this meal; it was well balanced, and the flavours blended in well
However, the Swedish meatballs did not have enough vegetables except frozen peas, so I added leftover peppers and zucchini to balance the diet.
Overall Thoughts
Dinnerly is an affordable service with delicious meals to fill the whole family.
The recipes are easy to cook, which favours those who don't like cooking and newbies to cooking.
All the ingredients were fresh and well-maintained when they arrived, and my entire family enjoyed the meals, including my little one, a fussy- eater. However, the meals did not have enough vegetables to make a balanced diet. So if you are considering Dinnerly for the long term, you must have your vegetables stocked in the fridge.
I added a protein source to one of the dishes and reduced the level of butter in another meal.
Although Dinnerly is convenient and affordable, it is not my go-to delivery service. However, if you have a tight budget, you can go for it; ensure you add vegetables to the meals.
What Are the Customer Reviews and Brand Reputation?
Based on elements like complaint history and the years the company has been in operation, it is currently rated at a C by the Better Business Bureau — it is not the best grading; they have yet to be accredited.
On Trustpilot, the company has a 4 out of 5 rating; more than 3990 people reviewed Dinnerly.
Each review had a unique liking, but most enjoyed the ingredients and portion sizes. Another group still wanted to know how flexible and convenient Dinnerly is.
On the opposing end, some complained that they had been damaged while others were missing ingredients and delayed delivery. Others complained that the customer service was poor when they called to raise concerns, which is an issue Dinnerly needs to check on.
Dinnerly Features
A Sizeable Meal-Plan Library With Quality and Affordable Dishes
The packing and user experience are challenging, but the options sustain the essential elements.
First, you must select a few meal options from a vast list that can be tiring. However, the package arrives in a container with a combination of ingredients wrapped in ice cubes.
Unlike other delivery services, with Dinnerly, you need to organise the ingredients per recipe as they come stacked together instead of separated based on the recipe. However, unlike others, Dinnerly has many components in their deliveries, enough to fill the family.
It isn't bad. Dinnerly's approach to packing saves on wastage and allows you to arrange your products in the fridge. The ingredients used by Dinnerly, the proteins and the greens, were fresh and well-sized.
They were ahead of other services I had tried that once delivered a half-spoiled onion and a tiny sweet potato intended to satisfy two people.
The meals we prepared for Dinnerly were very delicious; The ground pork and the garlic soy sauce noodles were the best for the family and us. The other meals, stuffed with rice peppers seasoned with Italian spices and served in sauce, were also a great alternative.
To enjoy the $5 per serving, you must order the most servings with the most significant number of meals weekly. However, the cost does not include the shipping fee, a standard $11.99 per delivery.
Even if you order fewer meals for two people, the cost is still lower than in other services. Their prices are great if you want to save money on delivery services.
Regardless of their costs, they never manipulated or reduced the ingredient quality, flavours or the amount of food per serving. Their rate remained intact, which I commented on.
A Meal Kit Delivery Service For Proficient Home Cooks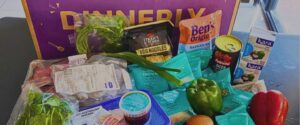 If you are pretty conversant with following instructions without illustrations, then Dinnerly is the ideal meal kit delivery to use
Like most other providers, their recipes do not include video and photo illustrations. However, their recipes are well written, which makes them easy to understand, although they lack images.
If you enjoy cooking, Dinnerly is the best service to give you the motivation and meal structures to help you achieve your homemade meal goals.
Their components are standard, meaning you can create meals in your free time without struggling or following the recipe. They tend to avoid the usual seasonings known to food gurus and focus on those familiar to most people.
There are better meal kits service than Dinnerly if you want to learn how to cook, those whose recipes come with video and photo illustrations. With that in mind, I recommend Home Chef or Blue Apron to take your lessons from.
The fact that their recipes lacked photos caused us to miss out on some steps and other instructions, which disqualified Dinnerly as the best service for people looking to learn; images and videos benefit a new learner.

A Large Number of Recipes
Out of the various meal kit delivery services I had ordered, Dinnerly had the most incredible variety of recipes and several options for people with dietary limitations.
They had about 100 recipes rotating weekly, meaning that even if you subscribe for a long time, you'll still have several options.
Additionally, Dinnerly has quite a variety of traditional dishes, which is an excellent way to stay inclusive of other cultures. Of the four meals we tested, two were non-American; a Japanese-motivated word and a Mediterranean feast. The other service we had paid for offered 26 recipes only for the week, with negligible diversification.
Dinnerly has many categories in their recipes, but here are the most common ones;
Meat
Gluten-free
Dairy-free
Kid-friendly
One pot meals
There was also another branch called "no chop" if you are looking for a way to reduce the amount of time you spend prepping for meals.
The recipes indicated extra credit meant there was more than one way to work around that recipe.
My Expertise
I have been a food editor, recipe developer and writer for about seven years at Wine and Food52 and Food and Wine. I often test the recipes in cookbooks to ensure the recipes written are accurate.
I graduated from the Institute of Culinary Education, which was formerly known as the International Culinary Centre.
I consulted wu4h Jose Garces, a former worker at the CookUnity food delivery service and the Food writer Kiki Aranita, who has generated various recipes for several meal delivery services.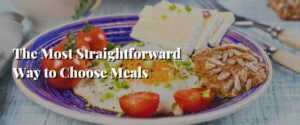 The Most Straightforward Way to Choose Meals
Dinnerly has various meal choices you can select from in addition to muffins, cookies and protein combinations such as grass-fed ground beef, chicken strips, pulled pork and chicken breasts.
If you want extra protein to your meals, add it separately once you have selected your meal plan. However, you must know that Dinnerly does not charge for extra protein or other foods.
Although they mainly focus on Dinner, there are several plans; Once you sign up for the service, they ask about your preferred dishes to balance your favourite recipes.
The recipes are organised with links to differentiate the following dishes:
All healthy
Vegan food
All
Family-friendly
Fast
Special
Meat
Fish began
When picking out your meals, it is a bit complicated, and you cannot alter your menu, meaning you have to pick the number of dishes you have subscribed for and the meals you have chosen are faintly highlighted.
The recipe icon has an addition and subtracts option that allows you to add or remove the recipes of your choice. It was not easy for us as we had to cross hundreds of recipes to find the five options that best suited us.
When picking out your recipes, the platform allows you to see a small video describing the dish, the person who created the meal, the amount of time it takes to serve, the time it takes to prepare, any allergens, ingredients, nutritional value and the kinds of utensils you will need to Prepare and serve the meal.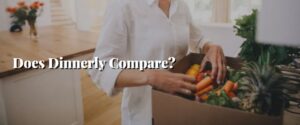 Does Dinnerly Compare?
Although Dinnerly had the best meals, easy to cook but still delicious, I would still prefer to have a Home Chef cook for you if you intend to learn from them.
You can look at Sanbasket for the best quality groceries.
Best Ways to Decide on the Most Efficient Meal Service
Before deciding on the best services, I tried their food for about one week and evaluated the packaging, delivery, interface and recipe instructions.
I took an interest in all details about the meal delivery service to see which was better.
What Is the Weekly Subscription Fee for Dinnerly?
The cost is highly dependent on the package you choose to tell with. However, the more the servings, the more the food, the more affordable the prices.
6 Meals of four portions are $5. The cost of 6 Meals and two pieces was $6, which is quite affordable. The most expensive meal kit I have tried is Sun Basket, which costs $11.50 per serving, and BlueApron, which goes for $8 per serving.

What Is the Minimum Amount You Can Order for Dinnerly?
You can only order three servings for two portions every week, while the maximum is six servings for four parts.
Therefore, consider purchasing several boxes for guests to have a family-filling meal.
Is It Problematic To Withdraw Dinnerly Subscription
You can end your subscription anytime you want. However, to prevent your delivery from happening, you must cancel the subscription six days before payment is due or when the delivery is about to be done.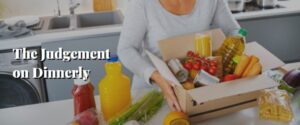 The Judgement on Dinnerly
Donnelly has several recipes available to choose from every week, making the recipes enjoyable each time.
Their means are also diversified to include plant-based recipes and sea foods.
If you are fussy with food or are a picky eater, then Dinnerly is for you as it offers many cost-effective options.
Generally, the recipes provided by Dinnerly were bland, although they were easy to follow. Also, with the many options available, finding a meal combination that suits you and your loved ones might take a long time.