If you're looking for an F45 Training membership, you've likely already heard about this fitness centre's exceptional services. Many people like attending F45 Training because of the unique environment and extensive list of exercises available.
Long-term memberships to F45 Training are priced at a discount compared to pay-as-you-go rates. But if you'd want some leeway, they also sell day permits with varying degrees of access.
Experts have detailed everything you need to know about F45 Training, from the membership cost to a trial class.  
What Is F45 Training?
F45 is a moderately organised approach combining functional and high-intensity interval training. The franchise employs the same branded white, red, and blue fitness equipment and follows the same training routine and structure.
This fitness facility has tons of equipment, including ropes, spin cycles, dumbbells, kettlebells and plates, venus, and barbells, among others utilised in HIIT-style exercises, which may be found at an F45 studio. Some F45 locations, not all, though, have a DJ on the desk to play music while you work out.
Also, you can make use of some of their smartphone application. Users may check the class lineup and register for courses on the F45 Training app. The F45 Challenge app provides users with meal planning, nutritional guidance, home exercises, trackers, and many challenges where they must accomplish a list of tasks and objectives. 
The in-studio heart monitors may be connected to the F45 Life app to represent information in your monitoring.
Different Pieces of Training
High-intensity interval training is an increasingly popular exercise that may be unfamiliar to some. In a nutshell, interval training consists of bursts of intense exertion followed by brief periods of relaxation. 
High-intensity interval training (HIIT) is a popular method of getting a full-body workout in a fraction of the time it takes to attend a typical cardio session.
Participants may utilise the F45 LionHeart heart rate monitor ($60) to ensure they reach a high-intensity zone. The gadget communicates with the TV screens at F45 to show real-time heart rate information. 
Alternatively, your performance report is stored in the app and can be accessed anytime.  
Functional training aims to improve mobility and performance in everyday tasks. Many of the exercises used in practical training may be performed with just your body weight, and they are designed to replicate real-world actions, including pulling, pushing, stabilising, and lifting.
Training Format at F45 
Every single one of the F45 workouts has a moniker, like Miami Nights, Tokyo Disco, Moonhopper, or Triple Threat. All unique take on the typical high-intensity interval training session that lasts 45 minutes. 
For instance, when you do the Triple Threat Workout, you will cycle through various exercises in three sets that progressively last for more time. However, for the second set, you are to do twice as many repetitions as you did for the first set, and for the third set, you are to perform three times as many reps.
In a typical circuit-style exercise, the participants travel from one numbered station to the next numbered station to progress through the workout. 
An example of the activity that has to be accomplished at all stations is shown on giant television displays. You can continue to the next level or get some water during the brief break periods.
F45 Trainers and Instruction  
Each workout also has one or two personal trainers on top of the exercise demonstrations on the television screens. 
The trainer explains the exercise at the beginning of the session, and then the trainers circulate throughout the session to give assistance, inspiration, and recommendations. If necessary, trainers can also provide changes or get other equipment.
One thing that sets F45 apart from similar exercises is that the trainers do not show the routines to the participants as expected in a typical group fitness environment. Instead, to acquire directions for each activity, participants view the enormous TV displays.
Every workout is performed by Cory George, the "face of F45," who can be seen on the screen. The instruction is repeated continuously for the whole of the period. The trainers are there to help you in any way they can, whether you have questions regarding the workout or want a variation of it.
The Workout Schedule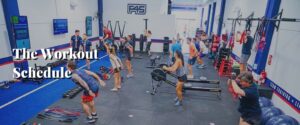 The F45 exercise program is structured so that every gym, regardless of location, does the exact workout on a similar day. Even while all F45 routines are considered high-intensity training and functional exercises, the workouts for every day of the week have a distinct emphasis.
The emphasis of the workouts on Monday, Wednesday, and Friday is on aerobic fitness, while the focus of the workouts on Tuesday, Thursday, and Sunday is on strength training. A combination of weight training and cardiovascular exercise makes up Saturday's hour-long workout.
You should anticipate doing exercises that develop strength and boost your aerobic fitness throughout every F45 session, even if some days emphasise cardiovascular fitness and others focus on building muscle.
Cost of F45
Since the owners of F45 studio are independent businesspeople, the membership cost might vary. There are a wide variety of dedication levels available. You may sign up for one class or pay a monthly or yearly price to access several in-person and online courses.
Monthly unlimited memberships at the F45 in Buckhead cost $199. However, if you pay in advance for six months of membership, the cost drops to $1,014 ($169 a month) from the standard $537 ($179 a month). 
With one of these subscriptions, you can access courses and online exercises via the F45 Challenge app and live classes through Zoom.4
A drop-in session in downtown Minneapolis will set you back $25. A six-month subscription costs $929 (around $154), while an annual membership costs $1,739 (around $145 monthly). Online exercises are included in the price, just like in other places.
The Number of Calories Burned
Rob Deutsch, the inventor of F45, has been quoted on several different sites as saying that the exercise has the potential to burn between 500 and 800 calories, a significant figure. 
The overall amount of calories you burn during a workout might differ from one person to another depending on the intensity of their activity, their weight, and a variety of other variables.
While using the calorie calculator provided by the American Council on Exercise, it is estimated that a person who weighs 120 pounds may burn around 360 calories while engaging in intensive bodyweight activities for 45 minutes. A person who weighs 160 pounds will probably burn 384 calories over the same length of time.
When questioned about statistics to back their claims, Lauren Vickers, the Athletics Team Manager at the F45, provided anecdotal proof to Verywell Fit. She said their members consistently hit these objectives in the workouts and may use their Lionheart trackers (wearable) to retrieve info post-session.
The Challenge
The F45 Challenge, a well-publicized fitness challenge held four times a year, is another facet that sets F45 apart. Every challenge lasts 45 days and consists of exercises, nutrition plans, fitness assessments, and more. For the chance to win rewards, F45 teams play against one another.
The F45 Challenge application provides users access to various resources for meal planning, such as recipes, meal preparation guides, data on macro and macro nutritional balancing, and calorie suggestions.
The F45 Challenge consists of four parts: (ten-day) preseason, (ten-day) regular season, (ten-day) playoffs, and (fifteen-day) finals. Varying aspects of your lifestyle and exercise are prioritised at varying levels of depth and intensity throughout the phases.
During Spring Training, for instance, it's most important to eat enough calories to maintain body weight. You learn about nutrition balance and work harder to achieve macro objectives throughout the Regular Season. 
In the last stage, you stick to your new eating routine to enhance your body composition and performance from the preceding Championship Round.
After the Challenge, there will be a time known as the Maintenance Phase. Maintain the progress you made throughout the challenge and make plans for further improvement.
Advantages and Drawbacks of F45 Training
There will be aspects of F45 that some people love, and others hate, just like any other workout. Given this, it might be challenging to determine whether a given feature of F45 should be considered a "con" or a "pro."
Some people may benefit significantly from using clip displays for exercise teaching. So, disregard that analogy. Each possible benefit and drawback, and where most people may place it, is mentioned below.
Pros
Screens encourage personal attention

Expert instructors encourage diversity

Total-body exercises are practical.

Trainers support each person's requirements

The goals for the F45 Challenge are focused on a healthy lifestyle.
Cons
Screens may get boring.

Videos are monotonous.

No cooldown and a brief warmup

For beginner exercisers, the pace could be challenging

There may be uneven exercises.

Possible overestimation of calories
F45 Popularity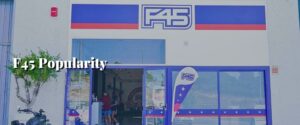 The F45 system's notoriety continues to grow for good causes.
The F45 Screens
Each F45 studio has several large-screen televisions, and each screen shows a different activity during a workout. As a trainee, you must look at the screen and do what it says.
This not only simplifies matters but also diverts attention from nearby gym-goers. The emphasis here is on your success. And if you've avoided group workout classes because you're self-conscious about being seen, you can relax here since everyone's attention is fixed on the TV screens.
Highly Qualified Trainers
Trainers at F45 must be certified in CPR, first aid, and AED, as well as a personal training certification. Lauren Vickers adds that to teach classes at an F45 facility, instructors must complete a training curriculum designed just for them. 
The choice to hire someone is determined on a regional basis. Marc Shriver, one of the owners, said that all trainers at the Minneapolis central site must be certified by at least one of many nationally recognised organisations. He said they are interested in trainers that would help foster an inclusive environment.
Shriver continues by saying that under their "community" umbrella, people of all sexes, abilities, ethnicities, and orientations are accepted and valued. Everybody who visits the studio will feel comfortable and at home here. Therefore, this may be achieved through fostering a feeling of community.
Efficient Workout (Full-Body)
This exercise allows you to work out your whole body concisely, which is one of the many reasons why it is so tempting. Almost every kind of physical activity entails the performance of a compound action, which necessitates stability and the use of one's body weight, sometimes in conjunction with the additional weight, like a barbell or kettlebell.
Support and Modifications  
The F45 trainers are familiar with the exercises, and at the start of each session, they check to see if any students have injuries or need modifications. They have received extensive training in offering alternative motions and can grasp alternative equipment if required. Trainers are also proficient at learning their participants' names and recognising their achievements.
Wellness Focused
Compared to other studio-based exercises, F45 (notably the F45 Challenge) stands out because it takes a holistic, lifestyle-oriented approach to fitness. You are provided with advice on what to eat, how to exercise, and other aspects of your lifestyle, such as how important it is to create goals and get enough sleep.
Drawbacks 
The F45 exercise is similar in that certain aspects may not suit everyone.
Monotonous Screens 
At F45, you'll always see the same people with the same outfit doing the same exercises in front of the same boring background. Because the workouts at F45 are pre-recorded, they always appear the same. 
This contrasts with a traditional group fitness class, where the trainers inject personality and daily diversity into the routine. Some people may find this boring.
Lack of Diversity in the Videos 
Again, slight variation is shown since the same fit individual is seen doing each activity in each program. This might be seen as restrictive or exclusive by some. Different body types might alter the same action's appearance. The workout videos do not represent adaptations or variations in body type.
Limited Warm-Up (and there are No Cool Downs)
The F45 pre-workout routine takes about 2:30 to complete. You may practise leaping exercises as early as this quick workout's first minute or two. Due to the intense training, some people may need more time to prepare their bodies properly.
No cool-down period is provided, but Vickers assures everyone is welcome to remain and relax. She claims the warm-up is brief on purpose to save time.
High-Paced Workout
This feature may go either way, depending on the individual. Some people who have tried F45 have complained about the intensity level.
A frequent member has said that the exercise is good for him because he is in perfect shape and he has grasped most of the exercise routines," but they acknowledge that "others might have difficulties with it or even get injuries." While trainers are there to help, those unfamiliar with the equipment may spend most of their interval time trying to locate it and figure out how to make the necessary motions.
Imbalanced Workouts
Since the videos repeat continuously, it's impossible to tell whether or not all parts of an exercise are being done. Furthermore, it is only possible to determine if you should do particular exercises on one side and then the other in a subsequent interval or set if you know the whole exercise lineup in advance.
In a session, for instance, you may see a variation of the Bulgarian split squat performed by stepping forward with the right foot and back with the left. Since the right leg is in front of the demonstration, the participant will likely adopt this arrangement for the rest of the exercise, despite the difficulty of alternating legs.
However, this exercise routine had three periods of varied durations. There's no telling whether the following interval (of a different length) will have you shifting your focus to your left leg or if a left-legged front squat will show up in your program later on. (It turned out to be the opposite.)
In other words, there are more effective approaches to strengthening both legs simultaneously. Several exercises had this problem.
High-Calorie Estimate 
Companies that sell exercise equipment often use a generic calorie burn figure to promote their products. However, these estimates are often optimistic. The calorie estimations were lower for this form of exercise on the calorie calculator from the ACE or American Council on Exercise.
It's still possible to burn off that many calories, of course. But those that do are often stockier and busier than average.
How F45 Measures Up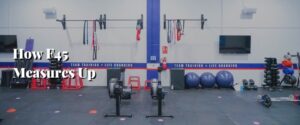 The global popularity of high-intensity exercises like F45 mirrors that of the United States. Many are set up like a circuit, have a competitive approach, and use many tools.
Orangetheory
More than 1,100 Orangetheory Fitness studios exist in the United States and another 14 abroad. The studios, like F45, are independently run and provide extensive selection of exercise tools. The total-body workouts in each session last for 60 minutes—every studio on the same day worldwide.
At Orangetheory, each participant is given heart rate measuring equipment, and the readings are continuously presented on a screen. Exercise tools include rowing machines, treadmills, and strength tools (like a medicine ball, TRX suspension trainer, or dumbbells). Like in F45, everyone works out at their speed at their station.
Prices at Orangetheory range from $59 for four courses per month to $159 for unlimited lessons per month, with the lower pricing tiers offering fewer classes per month.
Barry's Bootcamp
The high-intensity interval training at Barry's Bootcamp claims to be the first of its kind. It takes pride in its friendly, welcoming environment and its creative sound. It also claims you may burn "about 1000 calories" in a session.
Participants split their time between the treadmill and floor-based strength exercises in the original Barry's Bootcamp. If you'd instead not run, "double floor" involves going to the floor twice to work on your strength. The attention moves from one body area to another every day.
There are fewer Barry's gyms, and they are concentrated in more immense urban centres. As with F45, prices are location-specific but often higher. With a monthly membership at the Buckhead facility in Atlanta, you may take as many as eight lessons for $190. 
The monthly fee is $270 for a total of 12 studies or $320 for a total of 16 classes. The cost of one lesson is $30.
CrossFit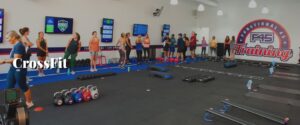 Unlike Orangetheory, F45, and Barry Bootcamps, CrossFit does not typically offer swanky studios for its activities. CrossFit "boxes" are generally sparse in decor but otherwise well-equipped. This contributes to CrossFit's appeal as a no-frills, extreme fitness program.
The workouts (workouts of the days or WODs) are high-intensity metabolic conditioning and strength training sessions. These classes are briefly compared to other popular workout formats like Orangetheory, F45, and Barry's. Extremely challenging CrossFit WODs may be completed in as little as 15–20 minutes.
Pricing for CrossFit sessions varies. Due to the rising popularity of WODs, many may now be found for free online and executed without equipment or little equipment in the comfort of one's own home.
F45 Training Prices and Membership Cost
F45 Training is not like any other gym; it is completely original, from entirely to the training philosophies to the membership possibilities. The membership plans and costs are subject to change from place to location, so it's best to check with the F45 location closest to you for up-to-date information.
Monthly and weekly memberships are available. Alternatives exist for the time frame of the commitment as well.
In addition to these memberships, you may also buy single-session, single-class, or ten-class passes. These passes' availability varies widely across facilities. Some gyms provide free seven-day tickets entirely, while others charge a little cost.
In the table below, you'll find the prices for each membership level at F45 Training. While the most popular monthly and weekly memberships may not be offered in the F45 site closest to you, they are available at all locations.
F45's Training Prices  
You should join an F45 Training gym if you are more motivated to exercise in a group than doing it alone or with a personal trainer. If so, you may use the 7-day ticket for $7 or less to see whether it meets your training demands and fitness objectives.
If you're familiar with F45 Training and want to add extra exercise sessions or classes to your training schedule, you may purchase a 10-class or 20-class ticket for around $27 per class.
F45's unique training program may be accessed via membership choices such as an 8-class-per-month subscription or a month-to-month commitment weekly payment subscription. To get the most out of your F45 Training sessions, you don't have to completely overhaul your current fitness regimen or give up the activities you like.
How Much Does F45 Training Cost?
F45 Training costs more or less depending on your commitment period, how often you want to attend the gym, and where the facility is located. Depending on the commitment period, the cost of a single F45 training session might range from $25 to $5.
A membership with a year-long commitment and a $155 monthly fee seems right. The same subscription would cost around $170 monthly if you commit to only part of the year.
There are two weekly membership options available at F45 Training. The weekly cost of a monthly membership is $59. The weekly cost of a half-yearly membership is $49.
A monthly subscription that allows you to attend eight sessions for just $119 is also available. You'll be able to use F45 training for eight sessions each month. This is a viable alternative for individuals who become bored quickly with the same old at-home routine.
How Much Does It Cost to Join F45 Training?
The majority of F45 Training's membership plans need no upfront payment. F45 Training sites do not charge members a joining or renewal fee.
Therefore, most of the first month or week of membership charge is due at signup.
A month-to-month subscription at F45 costs $169.99 initially and the same amount every month afterwards.
F45 Class Price
The cost of an F45 class varies from one place to the next. Class costs may range from $20 to $30, with $25 being the median price.
If you want to save time while signing up for courses at F45 Training, you may purchase 10 or 20 class passes in advance.
F45 Weekly Cost
The weekly cost of being able to work out at F45 varies based on membership class, as you can see from the chart displaying all F45 Training rates.
The weekly rate is $59 if you want to pay monthly. If you sign up for a more extended period, like six months, the weekly rate drops to $49.
The weekly cost of training at F45, excluding courses, is slightly under $40 on a month-to-month membership commitment.
The average monthly cost of an F45 membership is $155. A six-month subscription to F45 costs around $165, while a monthly membership costs $169.99.
These subscriptions have a single, recurring payment of $1 each month.
If you want to pay monthly, the total monthly cost would be around $200 to $250.
F45 6-Month Membership Cost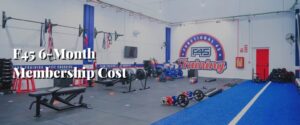 Six months of subscription to F45 Training costs about $990. If you sign up for a 6-month membership at F45, you won't have to pay all the money once; instead, $164.99 will be automatically deducted from your credit card on the same day each month.
F45 Training Drop-in Class Price
You may try out F45's high-intensity interval training (HIIT), circuit training, or functional training programs without making a significant financial investment or signing up for an extended subscription. Drop-ins are welcome, but a 10- or 20-class ticket is your best option if you're interested in taking the course regularly. Most locations offer drop-in classes for $25 per session.
F45 Challenge Price
You may get the F45 Challenge app without spending a dime. It will cost around two months of membership fees to participate in the real in-studio F45 challenge, which lasts for eight weeks.
F45 Challenge provides a functional exercise program and a healthy eating strategy tailored to your needs. The F45 studio challenge, if accepted, would cost about $250 to complete.
How Much Is the F45 Training Initiation Fee?
The price of a six-month subscription to F45 Training is about $990. If you choose a six-month subscription with F45, you won't have to pay all $164.99 at once; instead, your debit card will be charged $164.99 on the first of every month.
Is F45 Training Month to Month?
There is more than one month-to-month subscription choice at F45 training, among the numerous membership plans and occasional access tickets.
At F45, you may choose between a month-to-month membership that requires a single payment at the beginning of each month or a month-long commitment with weekly payments.
The F45 Gym sometimes has sales and promo codes available. Suppose you're interested in F45 training but need help finding discounts or promotions. In that case, you may still inquire about the possibility of receiving a deal by prepaying for a certain number of months at the location of your choice.
Can I Go to Any F45 Training With My Membership?
Memberships to F45 are only valid in the place at which they were first purchased. You can pay a drop-in charge for each location or purchase a 10-class ticket if you travel and want to visit different studios. The drop-in price ranges from $15 to $30, depending on the venue.
How Much Does It Cost to Cancel the F45 Training Membership?
When you discontinue your subscription with F45 training, you will not be charged a cancellation fee in addition to the monthly membership price; nevertheless, you will be required to pay for the remainder of the month in which you are discontinuing the membership.
If you cancel your class reservation less than 24 hours before the commencement of the session, F45 may assess a fee of $10 per class to cover their administrative costs.
Is It Hard to Cancel the F45 Training Membership?
Cancelling an F45 Training membership requires separate steps and presents a varied challenge at each facility's location. If you have a membership at certain facilities, terminating it is as simple as sending an email specifying your final day of attendance and the reason for terminating it. 
In certain other places, you may be required to complete the cancellation or suspension form in person physically. This is the case at some locations.
F45 Vs Crossfit
CrossFit and CreateFit are often compared to other training methods, with F45 vs CrossFit being among the most prominent.  To give you an objective perspective, here are a head-to-head comparison between the two:
Programming
F45 is remotely programmed, so everything runs smoothly. Every fitness centre follows the same routine, employs the same (mostly) equipment, and displays the same explanatory graphics on the wall. CrossFit, on the other hand, is mostly a personal endeavour; affiliates may choose to devise their workouts or adhere to those devised by more established facilities.
Movements 
CrossFit is a fitness regimen emphasising a small number of repetitive motions across powerlifting, Olympic lifting, gymnastics, and cardio. One to two exercises and ten to thirty minutes of aerobics at two-four stations make up a normal workout. In contrast to traditional gym routines, F45 workouts use much lesser weights and can feature more stations.
Coaching
CrossFit coaches, in general, are aggressive motivators encouraging their athletes to push themselves to their limits to pursue personal bests in strength, stamina, and speed. Therefore, they prefer to refer to themselves as "athletes" rather than anything else.  The coaches in F45 will cheer you up, yet only to the degree you seek or require.
Training Focus
The exercises in CrossFit tend to be more strenuous. The coaches help members with their form, mobility, and acquiring new skills. You won't necessarily get ripped, and it's a side effect. F45 is significantly less focused on developing specific athletic abilities and far more on general health and fitness. Although there are coaches to help you, this workout is no CrossFit.
Community
The F45 and CrossFit facilities communities are kind and helpful; members often socialise outside official gym hours.
In contrast to F45, CrossFit is both a sport and an exercise program.  As a result, there is more of a focus on teaching proper form and enforcing uniform movement patterns within a social "club" setting.  The element of friendly competition adds an extra dose of drive and fun to your training.
The same holds for other establishments with a similar vibe, such as 12 BodyFit, Fitstop, Rounds, and others in the HiiT genre.  These are good options, and some exercise is always preferable to none. However, CrossFit has the extras you need to keep you going back for more year after year.
Prices for F45 Training Class Types
Depending on the region, F45 Training provides a variety of courses, including the following:
Strength Training – With a focus on increasing overall body composition, strength development, and muscle tone, the class includes a variety of exercises employing resistance bands, kettlebells, free weights, and bodyweight movements.
Cardiovascular Training – Designed to increase stamina and cardiovascular fitness, the program combines bodyweight exercises with HIIT activities like running on a treadmill and utilising cardio and rowing machines.
Functional Training: This training focuses on improving movement patterns and total functional fitness and often involves lunging, pushing, and squatting, among others.
Hybrid Classes – Some classes combine cardio, resistance, and functional training for a full-body exercise that focuses on specific objectives or areas like strength, flexibility, core stability, and athletic performance.
Various courses or variants could be offered at each independently owned site. For information on the courses provided and the real costs, contact your local studio.
What Is the F45 Training Challenge?
The F45 Challenge is a comprehensive 8-week fitness and wellness program offered by F45 Training. It combines organised meal plans, nutritional advice, and F45 exercises to assist people in reaching their fitness objectives and encourage healthy lifestyle adjustments.
The F45 Challenge is a comprehensive 8-week fitness and wellness program offered by F45 Training. It combines organised meal plans, nutritional advice, and F45 exercises to assist people in reaching their fitness objectives and encourage healthy lifestyle adjustments.
Meal Plan 
Participants in the challenge are given a thorough meal plan that emphasises portion management and eating complete, wholesome foods. The aim is to support objectives like gaining muscle, losing weight, or improving general health. To guarantee that participants routinely consume a satisfying and balanced diet, meal preparation, healthy eating advice, and recipes are supplied.
Workouts 
Participants in F45 training get HIIT sessions that incorporate various resistance, aerobic, and functional exercises designed to improve body composition, strength, and cardio fitness. To guarantee the appropriate execution of the workouts, qualified trainers oversee the whole challenge.
Pricing 
The cost of the challenge and its exact elements vary depending on the region. However, the usual price is between $200 and $300, which covers recipe books, meal plans, tools for monitoring progress, and assistance from the F45 community.
In Conclusion 
If you look carefully, you'll see that the monthly membership fee at F45 Training is slightly more than that at other mid-range gyms. It is possible that, for many people, the membership fee of around one hundred and fifty dollars each month is an expensive affair. However, if the cost concerns you, you may get around it by purchasing one of their access cards instead.
The rates for the F45 training programs are reasonable because of the unique approach that the programs take to provide goal-oriented training with the appropriate equipment, trainers, and atmosphere.
The well-known F45 training program provides a full-body exercise in only 45 minutes. To increase functional fitness and assist people in achieving their fitness objectives, the program combines functional training with high-intensity interval training (HIIT). Group settings are used for F45 exercises; professional trainers provide direction and inspiration.
F45 also provides lifestyle and health advice and fosters a feeling of community. It's crucial to remember that not every exercise is appropriate for everyone, and every class may provide a unique experience.
If you're a beginner, take advantage of the cheap one-week trial offer to check out the program before paying $170 for a membership or $25 for a single lesson.
FAQs
Are there any age restrictions for F45 training?
F45 Training welcomes people of all ages. Students should be at least 16 years old, although adults are preferred.
It is essential to determine whether there are any age restrictions before signing up for F45 Training since certain studios may have regulations or programs tailored exclusively to teens or older individuals.
In case of injuries or other health concerns, seeing a doctor before beginning any exercise program is also wise.
Can I bring a friend to the F45 training classes?
Some F45 Training locations allow members to invite a complimentary visit to class. Having friends and family join in on the workout is an excellent opportunity to make new connections and encourage one another.
You should call the fitness centre beforehand to ensure they allow visitors.
What is the refund policy for F45 training?
F45 Training's cancellation and refund policy varies per location and package.
As a general rule, you should be able to receive your money back if you terminate your account within the allotted time frame. However, there may be penalties for changing or cancelling your reservation.
Compared to other exercise plans, F45 Training may be more costly overall. However, for many, the time and money spent are justified by the personalised instruction, supportive environment, and rigorous training provided.
Before signing up for a yearly membership at F45 Training, it's a good idea to research, talk to several trainers and staff, and ask plenty of questions.
How does F45 training compare to other fitness programs?
F45 Training stands out above other fitness programs because of its rigorous workouts, welcoming group, and personalised instruction.
Many people like F45 Training over alternatives like Cross Fit or conventional gym memberships because of the variety of exercises and community atmosphere.
However, because of its intensity, F45 training may not be the best choice for everyone. It is not designed for beginners or those with specific health concerns.
How many times a week should I attend f45 training?
The recommended number of F45 Training sessions per week may change depending on your fitness level and goals.
A small percentage of participants attend F45 Training programs daily, while most go twice or thrice weekly. F45 Training routines may be strenuous; respecting your limits and listening to your body is essential.