Any time of day can benefit from caffeine.
Caffeinated infused skin care products are simple and effective to use on the face. As a result, it is getting fame in the beauty industry.
Why Is Caffeine Used in Skincare?
Though it may seem surprising that caffeinated products have something in them.
According to Jeffrey Hsu, MD, co-director of Oak Dermatology in Chicago, caffeine is a vasoconstrictor that constricts the vessels, reducing the blood flow and making the skin smooth and brighter.
Caffeine looks anti-aging or wrinkle-free ingredient in the face, eye, or even in body care.
"It is frequently used as an anti-aging or wrinkle-smoothing component in the face, eye, and body care."
Proper formulation is essential to the success of skin-care products. For example, caffeine may help to refresh the skin, removing dark circles and depuffs the face when taken in the proper amount.
Several studies, including one published in the International Journal of Cosmetic Science in August 2020, showed that caffeine particles are tiny enough to enter the upper skin layer, allowing them to go in and work between skin layers. Notes Hsu.
Its note-worthy that it will give you the required results because the products contain caffeine. 
"Caffeine works when given in high concentration," explains Hsu. "I always advise patients to use approved medical-grade skin-care products that confirm the products' formulations, chemical purity, and efficacy."
Marketing language such as "clinically proven" and "pro-grade" are not always similar to "medical grade," according to Hsu. "Medical-grade items are given at a physician's office or a medical spa under medical director supervision.
Uses of Caffeine Skin-Care Products
According to Ife Rodney, MD, a board-certified dermatologist and the founder of Eternal Dermatology and Aesthetics in Fulton, Maryland, caffeine works mainly through circulation, making it rapid action, protecting against oxidative stress, and anti-inflammatory for the skin.
When exposed to the sun, freckles can result from UV exposure, which caffeine may help to prevent. Studies show that using caffeine after exposure to UVA and UVB radiation is beneficial. "You'll feel better immediately and be protected from oxidative stress, but it may go off over time. Other active ingredients that promote skin healing should be included in skin-care products."
According to Rodney, other skin-friendly ingredients include aloe, tea tree oil, shea butter, vitamin C, and jojoba oil. She says they all have antioxidants, which reduce oxidative stress and may even aid in recovering injured cells.
According to Hsu, skin exposure to the sun and animal studies show that caffeine may have anticarcinogenic properties.
Caffeine Use in Skin Care: Are There Any Drawbacks?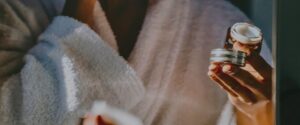 According to Rodney, the primary disadvantage of caffeine's skin advantages is that they last just a short time (like a cup of coffee). She claims caffeine is only a short-term remedy and cannot remove wrinkles or under-eye bags. 
Rodney recommends a salicylic acid cleanser, serums containing vitamin C, niacinamide, ceramide moisturizers, and broad-spectrum sunblock. 
Caffeine can also cause dermatitis by increasing blood flow, resulting in redness.
If your skin is caffeine sensitive, you should do a patch test on a small skin area back on the ear or on the jawline to see the skin response.
Skin Care Products with Caffeine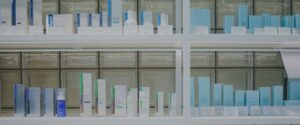 Inkey Caffeine Eye Cream is a well-known skin-care product. This product is said to be used by actress Gemma Chan and musician Alana Haim to decrease puffy eyes in the morning. 
International Journal of Cosmetic Science in March 2022 stated that it contains an anti-aging peptide called Matrixyl 3000, which is proven to improve anti-wrinkle performance. However, additional research is needed to find how effective it can enter your skin.
Caffeine isn't just coffee; it's also in serums, body washes, and cellulite treatments. Some products work better than others with caffeine's skin-care benefits. Caffeine toner, for example, is one product to avoid. Because caffeine content is low and the effects are temporary, it's unlikely to provide better results than other toners on the market, according to Rodney. She believes that a caffeine-infused lotion or serum would give more benefits.
Dermatologists recommend the following caffeinated products:
Biossance Squalane + Caffeine Toning Body Cream
Caffeine is combined with plant-based derivatives, active substances that help relieve skin, increase cell regeneration, or give more moisture.
InterFuse Treatment Cream Eye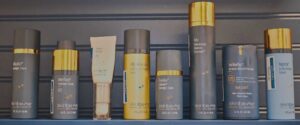 According to Hsu, this medicated product contains Kakadu plum extract, which is high in antioxidants to help counteract free radicals, which break down collagen, resulting in indications of skin aging by causing fine lines and wrinkles.
The Ordinary Caffeine 5% + ECGC Depuffing Eye Serum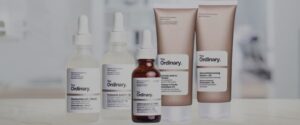 Rodney enjoys this product because caffeine from green tea has more antioxidants than coffee. She claims antioxidants are excellent for healing sensitive skin around the eyes. She also includes hyaluronic acid, which helps keep the skin smooth and moisturized.
ZO Skin Health Cellulite Control Cream
This medical-grade lotion, which Hsu advises, contains plankton extract to moisturize the skin in addition to caffeine. A review published in Marine Drugs in June 2020 reveals that marine-based compounds, such as algae, may provide a variety of skin-supporting advantages, including pigmentation and decreased wrinkles.
Sum Up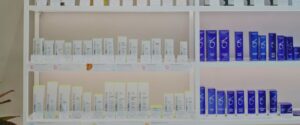 Caffeine is getting famous as a essential ingredient in skin-care due to many reasons. It constrcits the blood vessels for a short period depuffs and refresh the skin.
Its effects are notable but temporary. The  best thing is to use the caffeine with other ingredients that promote the skin repair like Vitaminc C, hylauronic acid and etc. 
Remember that caffeine is absorbed through blood circulation. Make sure to use it with caution in case of sensitivity. Do a patch test or contact your dermatologist if it suits your skin.