An air fryer is one kitchen equipment that has seen incredible growth in demand over recent years. These bulky, bucket-shaped air frying appliances are now a staple in any modern kitchen, thanks to their long list of health and convenience benefits that allow even the most inept cooks to crank out delicious meals from their kitchen.
Thanks to their popularity, there are now many options when shopping for an air fryer oven. However, despite its widespread availability, many people need clarification about what an air fryer is, how it works, and what foods it can prepare.
Experts develop the best air fryers in the Australian market to help you find the best value for your money. All models in this post are feature-packed and have large volumes, making them perfect for meal preparation.
How Does Air Fryer Work?
Air fryers' preprogrammed cooking modes make it simple to prepare various foods, including steak, cake, chicken, shrimp, roast, and French fries.
Adjust the oven's setting and cooking mode to suit the dish. Have the air fryer nice and hot for the best results. In addition, study the manual thoroughly to familiarise yourself with the fundamentals.
Now that you know the differences between air-fried and deep-fried food, you can make an informed decision about whether or not to invest in an air fryer. There's more, though. Whatever size air fryer you have, let's look deeper at its benefits, drawbacks, and limitations.
Pros and Cons of Air Fryers
1. Easy to use
Once you use an air fryer, there's no return to traditional frying methods. Put in your frozen nuggets, onion rings, fries, and chicken fingers, select the appropriate cooking mode, and wait the allotted time. The leftovers from yesterday night can also be reheated.
2. Easy to Maintain
Cleaning an air fryer is much easier than a deep fryer. Due to the small amounts of oil used for air frying, the pan can be cleaned with a soft brush, dish soap, and hot water. It's easy and clean!
3. Healthier meals
The versatility of an air fryer means it may be used to prepare a wide variety of nutritious dishes. This gadget allows you to cook with little to no oil, and the food doesn't absorb the oil you do use. Less fat and fewer calories, indeed! If you need help knowing where to begin, the internet has many simple and healthy food ideas.

4. Doesn't take up a lot of space
Even the giant air fryer won't occupy much room on your kitchen counter. The typical size of an air fryer is comparable to that of a toaster oven or a coffee maker. They're not going to take up much room on the tabletop. There are also stylish air fryers that match your exquisite cooking space.
5. Safe to use
Unlike microwaves, air fryers do not emit radiation that could harm you. This unit's enclosure shields users from direct heat and splashing oil. Not only does it include a timer to keep the food from burning, but it turns off itself when the time is over.
6. Quite expensive
There are several different models of air fryers on the market, but the ones with the best performance and design tend to be quite pricey. More than RM1,500 will get you a top-tier multi-functional fryer with a stacked multi-rack for steaming and grilling. The price of the appliance and its warranty, as well as how often you plan to use it, are factors to consider.
7. Not convenient for large families
Depending on their capacity, air fryers are compact. Cooking for a large family? Stick with the tried-and-true methods of a stovetop or oven. You can usually prepare enough food in a medium-sized fryer for one or two people. A whole chicken may fit in the 12-litre air fryer you can buy in Australia.
8. Burn and dry food
Depending on the model, an air fryer may have several customisation options. As a result, utilising the same food in different brands of air fryers yields varying results. There is a risk that your meal will get too hot and either burn or dry out.
Using this appliance is all about trying new things in the kitchen. Please follow the recommended air fryer techniques and read the included manual before using the appliance.
9. Hard to find the perfect air fryer
You can choose from hundreds of different models of air fryers on the market today. Luckily, this roundup on the best air fryers in Australia can help you choose healthier meals and more convenient cooking. User reviews on air fryers are also available. It's relatively easy to track down the ideal air fryer.
Best Air Fryers In Australia 2023
There are a few factors to think about while selecting an air fryer. Finding one that fits nicely on your kitchen counter is a priority. You'll also want to figure out the capacity that you need. While some air fryers are minor, others can handle a full family dinner.
In addition to the ability to set the temperature and cooking time, some air fryers provide pre-programmed cooking schedules. There are both streamlined and conventional models of air fryers on the market. Ultimately, your tastes and cooking habits determine which air fryer suits you.
A team of experts has researched and reviewed several different models of air fryers, so you don't have to start from scratch when shopping for one. They checked out many top brands from Philips, De'Longhi, Tefal, and other manufacturers. The following roundup was made based on vital features and how well customers received them.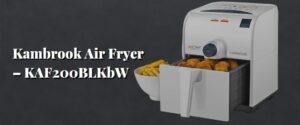 1. Kambrook Air Fryer – KAF200BLKbW
Pros
2.5 Litre volume
Auto cut-out feature
Cons
Basic design
Difficult to maintain
If you want an affordable air fryer, the Kambrook Air is a great choice. This particular model has a 30-minute timer and a volume of 2.5 Litres. It has received a 4.3-star on Bing Lee and Amazon.
With a generous 2.5 litre capacity, this reasonably priced air fryer is ideal for feeding between two and three people. It contains an automatic shutoff feature and a 30-minute timer for your convenience and protection. This machine allows for precise temperature regulation up to 200 °C, ensuring your food is always perfectly cooked.
Users were impressed with the product's simplicity, affordability, and effectiveness. Even though it lacks the features of more expensive models, this is perfect for a fast night of grilling, roasting, and air frying. The basket is non-stick and straightforward to remove. Although some have complained about its maintenance, this issue is relatively minor.
2. XXL HD9861-99, Philips Air Fryer
Pros
Great performance
Easy to maintain
Simple to operate
Cons
Expensive
Too bulky for most kitchens
Pricey accessories
When looking for a high-quality air fryer, look no further than this Philips model. It has received good ratings on most sites, with a 4.8-star rating on Amazon. This model's large capacity and excellent cooking performance are reasons why this Philips model is popular.
The Smart Sensing feature built into this air fryer sets it apart from the competition, as it automatically modifies the frying temperature and time as needed. The system will calculate the necessary cooking time and temperature if you've chosen the right food category.
It has a Keep Warm function; you can program it with your go-to dish settings. Its 7.3-litre capacity makes it ideal for cooking large quantities of food for a family, such as a whole chicken.
Customers have posted positive feedback on this air fryer at online stores like Amazon, Myer, and Harvey Norman. It's not only practical and simple to operate, but it also has many options for preparing delicious meals. The high price tag is the only real drawback. The model's add-ons can also add up in price.
3. IdealFry FH2394BK – De'Longhi
Pros
Simple, one-touch buttons for everyday dishes, like chips
Prepares food more quickly than other air fryers
Easy to maintain
Big basket
Cons
Takes bench space.
Uncut chips get dehydrated.
Less cooking control than in most models
Experts have confirmed that IdealFry is the best pick for most people. This air fryer is great for two to four people because it strikes a decent mix between price, capacity, and use. Plus, it has received good reviews on online stores and a 4.65-star rating on Target and Amazon.
The manufacturer claims that the air fryer's use yields foods with the same crispy texture as when cooked in oil, using 80% less fat. Its Rapid Surround Heat feature allows it to prepare food faster than competing models.
The maximum weight that may be carried in this tiny basket is 1.25 kg. As a result, it is possible to cook a whole meal for four people in a relatively small kitchen. It has a window so you can watch your food as it cooks.

4. Instant Pot Duo
Pros
Pocket-friendly
Super-flexible
Cons
Bulky design
Hard to maintain
The Instant Pot has a rating of 4.8 stars on Target and 4.9 stars on Appliances Online. It is the best pick for preparing chips.
This type combines a pressure cooker with an air fryer to make delicious dishes quickly and easily. By exchanging the lid of your pressure cooker with that of an air fryer, you can simultaneously cook and crisp your food. Use 95% less oil when deep-frying with this method. The appliance can also quickly roast, boil, sauté, steam, warm, and dry food.
Many satisfied customers have praised the product's simplicity, effectiveness, and reasonable price. A minor inconvenience is switching lids regularly, but this air fryer can cook so many different things that it's worth it. The pre-set applications and touch controls make light work preparing even the most complex meals light work. Most buyers don't mind the product's heft because of its valuable features.
5. XXL HD9630-21 – Philips Air Fryer
Pros
Large basket
Fast cooking
Easy to operate
Cons
Uses a lot of bench space.
The timer stops before zero.
Dial markings faded over time.
The Philips Air Fryer is an excellent option for a family of four and has a rating of 4.6 stars on Amazon.
This air fryer is simple to use straight from the box thanks to its white plastic construction and a single set of controls (one for temperature and one for cooking time). You can put 1.4 kilograms of chips or an entire chicken into the 7.3-litre basket, making it among the most extensive options on the market. Between usage, you can simply throw the basket in the dishwasher or clean it with a sponge.
When compared to competing models, this air fryer boasts superior speed. Perfectly cooked food can be fried, baked, grilled, or roasted with 90% less oil. Its Fat Fry technique separates and traps excess fat, allowing you to cook with less oil without sacrificing flavour.
This model's sole real drawback is the space it requires. However, the larger capacity of the basket will be greatly appreciated when preparing meals for a large family.

6. Fry Deluxe XXL EY701 – Tefal
Pros
Sizeable Basket
Cost-effectiveness, considering its size and scope
A breeze to clean
Cons
It takes a lot of work to use pre-set cooking settings.
Problems putting in and taking out the basket
Instructions should be made clearer
With an Amazon rating of 4.3 stars and a Bing Lee rating of 4.2 stars, the Tefal XXL EY701 comes highly recommended as the best enormous alternative.
Buyers get impressed by its semi-automatic controls and enormous capacity for only $399. It can hold 1.6 kg of food and has a capacity of 5.6 litres. Plus, its body is made of stainless steel with black plastic details. The basket's detachable components may be cleaned quickly and easily with a dishwasher or a damp sponge.
Though they aren't user-friendly, eight pre-programmed cooking options are included for convenience. Thankfully, the unit's touchscreen interface permits manual temperature and adjustment of cooking time.
7. Classic EY2018 – Tefal
Pros
Easy to clean
Pocket-friendly
Big basket size
Cons
Complicated settings
If you're looking for a compact air fryer, go as far as the Tefal Classic EY2018. This item has received 4.2 – stars based on customer reviews on Amazon.
This is an excellent option for those with limited kitchen space because of its low cost and space-saving design. This one is taller and thinner than other fryers of the same capacity.
Up to 6 servings can be cooked at once in the 4.2L capacity. A larger model, like the Philips' Premium XXL, may better fit families with numerous people and hearty appetites.
Most air fryers have detachable non-stick frying baskets that make cleanup a breeze. It has a Keep Warm setting, a recipe book, and five pre-set cooking programs.
8. Nutri Ninja
Pros
Alternating modes of cooking
Substitutes for a wide variety of kitchen appliances
Plenty of room for the whole family
Cons
Bulky
Multiple lids
The Nutri Ninja has been voted the best multi-purpose air fryer by experts. It may be used for various purposes, is simple to operate, and has enough storage space for the whole family.
This handy widget replaces at least nine separate kitchen tools. You may use this to air fry, slow cook, sauté, steam, pressure cook, soup/stew, bake, grill, and roast. It only takes about 40 minutes to roast a whole uncooked chicken.
It's perfect for a family on the go because it prepares food up to 70% faster than conventional ways. The air fryer can reach a maximum temperature of 260°C, substantially higher than the typical air fryer's maximum temperature of 200°C.
It's more cumbersome than competing models because you'll need space for two separate covers. However, this is a good choice if you need a multi-cooker and value the air frying feature.

9. Ninja Foodi
Pros
synchronises cooking times
Add confidence in the kitchen
Six cooking options in one
Cons
Bulky
It can't be used for anything saucy
More space is needed for cooking.
What makes this air fryer standout is its dual frying zones, 3.8 Litre volume each.
Separate baskets, cyclonic fans, and speedy heaters are installed in each cooking area. You may prepare two dishes at once thanks to the separate cooking areas. In addition, each zone has its controls for the cooking course, duration, and temp.
To avoid having cold potatoes on the other side and steaming wing slices on the other, set the timers for each zone to end cooking simultaneously. The Match Cook feature can also coordinate the two cooking areas.
The dishwasher can clean the baskets and not stick to food. Users have also commented on the simple interface and the time-saving dual-function feature. However, the function has one drawback: you can only roast an entire chicken after cutting it in half.
10. Nutribullet XXL Digital Air Fryer
Pros
Big enough for a family
Customisable cooking modes
360° Vortex feature
Smart cooking
Cons
No Rotating basket
The Nutribullet XXL can fit an entire chicken in its enormous capacity basket and features eight preprogrammed cooking settings. This type is high-performing because it uses 360-degree vortex convection to facilitate rapid and even cooking of all your favourite foods.
If you access the drawer to check on the food while cooking, the intelligent appliance will recalculate the cooking time to get the best possible results. If you want to use something other than the built-in applications, you may always manually set the time and temp.
Many reviewers have praised the air fryer's ability to reduce cooking time and effort. They praise how simple it is to use and clean but point out that the manufacturer must specify whether the basket can go in the dishwasher. A few customers have also mentioned that the non-stick surface could be sturdy.
11. Healthy Choice
This is probably the most cost-effective option, yet it has the most storage space. This Healthy Choice has all the features you'd want at a fraction of the price.
Have you computerised the interface and screen? Check. Sufficiently big to hold a whole chicken? Check. Pull-out drawer with non-stick lining? Do a triple-check. In addition, it includes eight distinct preprogrammed cooking options to help you get the best results every time.
Time can be set for up to 60 minutes, and heat can be set for up to 200 degrees if desired. Considering other devices on the market permit you to go up to 30 minutes, that's a reasonably good range.
Many people who have used it have praised how simple it is to maintain. More so, if you're making a lot of food, the extra-large making basket is ideal. The non-stick coating, however, doesn't last very long. Some customers have also complained that the gadget's lifespan was shorter than expected.

12. XXL – Instant Pot Vortex Plus
Using its six pre-set cooking modes, the Instant Pot air fryer may air fry, broil, roast, bake, reheat, or dehydrate food. You can do a lot with these default settings. Muffins, pastries, kale chips and jerky strips can be dehydrated.
Thanks to the straightforward one-touch control panel and digital displays, you can instantly choose your preferred cooking technique and program or manually modify the time and heat. The baking sheet may be removed and cleaned in the dishwasher as well.
You'll save time by not having to readjust them constantly. It's also the second-cheapest option available. If you're trying to save money while shopping, consider this option.
Still, this one has a quieter motor and a shallower basket compared to the other models on the list. The Instant is a great buy despite this minor flaw.
13. Sunbeam
This air fryer has the largest capacity and can also be used as an oven, with four different cooking modes (fries, chicken, vegetables, and meat). It also has manual settings for cooking procedures like baking, roasting, dehydrating, and frying.
A mesh air fryer basket, a rotisserie spit, three airflow racks, a handling fork, and a slide-out drip tray are some of the extras included with your purchase. The oven door is also removable, making cleanup a breeze, and the other accessories can also be cleaned in the dishwasher.
Users love this air fryer because it's simple to clean, and the food cooks uniformly without tossing or turning. Its enormous capacity means users can prepare meals for larger households simultaneously. In addition, the device's pre-set parameters and user-friendly design make it a breeze to use.
According to several reviews, food may take longer to cook in this air fryer than in other models. To keep the non-stick coating in good condition, careful washing is required.
14. XL – Philips Essential Connected
The remote smartphone and voice control (through Amazon Alexa) compatibility of the Philips Essential sets it apart from other intelligent air fryers. It's compatible with the freemium NutriU app from the same company, which features hundreds of recipes, photographs, and videos, some of which were developed specifically for this model.
In addition to the touch controls, temperature, cool wall exterior, time settings, and auto-off feature, you can expect the following features.

15. Ninja Air Fryer Max
The 5.2-litre Ninja Air Fryer Max streamlines the cooking process with six Auto IQ settings, dishwasher-safe, and digital timer parts. You can get a highly crispy, golden brown finish by cooking at temperatures between 40 and 230 degrees Celsius, and the non-slip feet help it stay on your countertop.
Adjust the time and temperature of the six preprogrammed options (Max Crisp, Roast, Bake, Reheat, Air Fry, and Dehydrate).
Thousands of satisfied customers have called it a "game changer" and given it a perfect score of five stars on Myer and Google for its convenience and ease of use.
Reshuffle the deck. Excellent quality food that is ridiculously simple to prepare. Extremely user- and maintenance-friendly. One user remarked, "It would be helpful to have the additional basket rack to store more items."
Revolutionary! Now that green beans and broccolini can be prepared in under five minutes, and you have considerably more variety in your dinners.
16. Magic Bullet
The Nutribullet's Magic Bullet is another simple and inexpensive solution. This model is among Australia's most popular Air Fryers, and for a good reason: it only costs $80.
That doesn't mean you're giving anything up here. While the Magic Bullet lacks the fancy features of more expensive models like the Philips XXL model or the Tefal's Ultimate model, it has some of the most appealing designs among these appliances. The compact design makes it easy to store on a kitchen counter, and the easy-to-use temperature dial eliminates pressing buttons repeatedly.
The little 2.5-litre capacity is the main drawback, so if you were hoping to use it for more substantial family meals, you'd need to look elsewhere.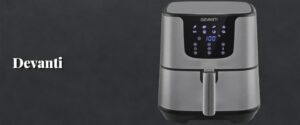 17. Devanti
With its 1800-watt output, the Devanti ensures fast, odourless cooking. It can heat food from 80 to 200 degrees Celsius, featuring a non-stick coating and a removable, washable basket.
Reviewers are impressed by how much you can get for your money with this product. It's fantastic, has a large basket suitable for a family, cooks quickly, and makes food crispy with excess fat and oil drained out.
18. Kitchen Couture
This Kitchen Couture Air Fryer, with a capacity of 14 litres, is ideal for catering to large groups. With its rotisserie function, you can rotate your meal through 360 degrees, heat it like an oven, and circulate hot turbo air simultaneously.
For your convenience, the oven has ten preprogrammed settings, and you can also adjust the heat (up to 200 degrees Celsius) and cook time (up to 90 minutes). You get a rotisserie fork, oil tray, rack, filter, cage tong, rotisserie fork, and rotating cage in addition to the device itself.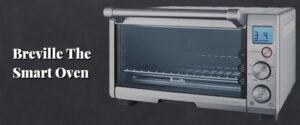 19. Breville The Smart Oven
While not the least expensive option, Breville's Smart may be a worthwhile alternative to a conventional or convection oven. This appliance's 'Element IQ System' ensures that your oven is always the same temperature throughout, even if you aren't the most experienced cook. Toasting, pizza baking, roasting, warming, and reheating are just some of the ten preprogrammed cooking operations included.
What Should I Look For In An Air Fryer?
Some of these factors may seem like no-brainers when shopping for an air fryer, but there is some science behind the seemingly random decisions. This is especially when you take into account the synergy of these elements. Following this straightforward procedure, you'll soon be the proud owner of an air fryer.
1. Pricing
Here is the place to start looking, so establish a spending limit and (at least try to) stay inside it. Starting at roughly $122 (£100), you might spend several hundred on a top-of-the-line model.
Suppose you're waiting for a sales event like Amazon Prime Day to buy an air fryer, be prepared to act quickly. In that case, these appliances seldom remain on store shelves for long, even when discounted for a tiny amount.

2. Capacity
This is an essential consideration because it affects the amount and types of food you can cook. A good rule of thumb is to get an air fryer with a capacity of at least 3 quarts / 5 litres if you're making meals for a family of two and at least 5 quarts / 4.73 litres if you have a family of four.
When shopping online, you can rely on product images to determine whether or not an air fryer has multiple levels or a single large drawer. Reading the description and specifications might help you predict what to expect.
3. Cleaning
Dishwasher-safe cutlery, trays, and baskets are standard on many high-end models. Still, some add-ons may be challenging to clean. For instance, some designs may employ a mesh-wired basket that is challenging to scrub down.
4. Ease of use
Many modern models include convenient preset programs that can be activated with the push of a button to produce professional-quality outcomes. Premium models with electronic controls provide more accuracy when setting the timing and temp than those with dial controls.
5. Safety Features
For example, some models automatically turn off if the internal temperature rises above a certain threshold. A cool-to-the-touch exterior on your air fryer is a must if you have young children. Stainless steel housings on some models increase in temperature when in use.
6. Size
Air fryers are not the lightest or most compact countertop appliances, especially as capacity increases. Just picture it sitting on your counter, serving food to your children, and, most significantly, being easily relocated if you need more counter space. Getting closer to discovering your air fryer if it won't be in the way and can be quickly retrieved before dinner.

7. Design of the Air Fryer
The design of the appliances in your kitchen is essential due to factors such as individual taste and practicality. A portable model may be your best bet if you have little room on your kitchen counter. Larger ones are available for those who have adequate room.
Shape
If you only need to cook a few servings of food and more counter space, an egg-shaped (roughly circular) air fryer may be the best option. A square one is best for those with a more prominent family.
Width of the basket
The breadth of the basket is also an important design consideration because it allows you to cook more food at once without having to stack it. Chicken wings and burger patties benefit significantly from forming in the broader basket. Turn your food over if you use a deep basket to ensure even cooking.
Noise
You should choose an air fryer whose noise level is tolerable. Some may need help to have meaningful conversations while cooking together.
8. Wattage
A kitchen appliance's suggested wattage is something you should research, just like any other appliance. The power of most modern air fryers is between 800 and 1500 watts; however, some can go as much as 2175 watts. Check the wattage capacity of your kitchen socket before settling on a specific appliance.
9. Warranty
When shopping for cookware, it's crucial to consider the warranty length. Warranties can range in length from a few months to an entire year. Because of the high cost, it is wise to insure your air fryer against breakdowns that could occur within the first few months of ownership.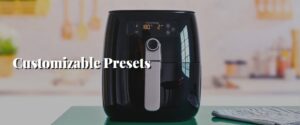 10. Customizable Presets
While this is not a significant factor, as cooking styles can be easily adjusted, some individuals have a preferred method of preparing certain meals. You should get an air fryer with programmable settings if you frequently cook a specific dish at a specific temperature. Only some people will care about this.
11. Connectivity
Fans of modern conveniences may be interested in a WiFi-enabled air fryer. Some even have Bluetooth or Wi-Fi, so you can sync it with your phone and check its status without getting up from your chair. It's not something most people think about.
What Can An Air Fryer Do?
You should have figured it out by now. Air fryers unquestionably provide a healthier alternative than traditional deep frying methods. This is because oil usage is drastically reduced when using an air fryer.
Consider how you would regularly prepare drumsticks by dunking them in glasses of oil and deep frying them. The drumsticks can only soak up so much oil. However, they will be much higher in calories and fat content than those prepared via air frying, which typically requires only a few tablespoons of oil.
Air frying is an excellent alternative to deep frying for those trying to limit their consumption of unhealthy oils and fats. However, the air fryer is not a free pass to gorge on junk food. Eating air-fried fries, bacon, nuggets, or other processed meals is unhealthy.
Of course, there are still some drawbacks to utilising an air fryer.
Products fried in an air fryer are typically advertised as having the same satisfying crunch as those fried in oil. And yes, these innovative culinary tools can help you fry food to a delightful crisp.
However, air-fried foods still typically aren't as crunchy or crispy as deep-fried ones. The trade-off could be better, but you still enjoy fried dishes with much less fat.
It's important to remember that air frying takes more time than deep frying.
Many modern models of air fryers also include other everyday kitchen tasks, such as baking, dehydrating, grilling, broiling, roasting, and reheating.

What Can I Cook in An Air Fryer?
An air fryer can be used for various meal preparation tasks. And indeed, there are many more alternatives than just a bag of chips or chicken nuggets.
Those with a larger capacity (like the ones suggested above) come in handy when making meals for a large group.
The most excellent foods for air frying are listed below. Many of these foods are also great for use in meal preparation.
Vegetables: Brussel sprout, green beans, broccoli, asparagus, capsicum, mushrooms, sweet peppers, and brinjal
Proteins: Chicken breast, shrimp, wings, legs, drumstick, fish, meatballs, salmon, steak, eggs, and ground beef
Carbs: Sweet potatoes and potatoes
Should You Buy An Air Fryer?
Not everyone needs an air fryer. Even the largest ones can't replace a standard oven's capacity. Still, they require a sizable amount of room on your tabletop or shelf.
The air fryer is expensive, but it is well worth the investment if you have the means.
Air fryers are convenient since they allow you to prepare fried items quickly while reducing the amount of fat and oil used. It's also helpful for people who only have a little time to spend on meal prepping.
Frequently Asked Questions
How does an air fryer work?
An air fryer does not fry food. There is a convection cooker on steroids and an air fryer. The food in the drawer will be cooked by hot air generated by the heating element and distributed by the fan.

Does an air fryer consume a lot of energy?
An air fryer is an efficient kitchen appliance that cooks food quickly and uses little electricity. This means you can do so without worrying about a skyrocketing electricity bill.
Is an air fryer healthy?
Air frying is a far better alternative to deep frying. This is because, in comparison to their deep-fried counterparts, air-fried meals are healthier. However, the air fryer's nutritional advantages are contingent on the kinds of foods you choose to prepare in it. That doesn't mean you can go crazy on fried foods every day.