The word "healthy" certainly doesn't come to mind when many think about Olive Garden, but that is not always true. Although the establishment is best known for its indulgent Unending Spaghetti and free breadsticks, healthy options are available.
You can go for wheat spaghetti instead of refined pasta. Depending on your hunger, you can create a pasta-free dish with a salad and stew on the side.
If you've planned to eat at Olive Garden tonight but want to stick to your calorie limit, this post is for you. Some meals on this list are buried deep in the menu you need help to spot quickly.  
Is Olive Garden Safe?
The first Olive Garden debuted in 1982 in Orlando, Florida, and was promoted as a family-friendly restaurant.
Olive Garden offers substantial meal portions, most topped with delicious cheese. Additionally, most foods served at this chain of restaurants are high in sodium, which isn't the healthiest ingredient. This makes knowing what to order at Olive Garden even more crucial.
Fortunately, there are a few methods for adjusting the Olive Garden meals to cut calories and simplify sticking to a calorie-counting plan.
Lowest Calorie Olive Garden Choices
Olive Garden is an Italian-American restaurant brand headquartered in Orlando, Florida. This restaurant chain is relatively popular throughout the United States, and its famous breadsticks draw crowds year after year. Statista estimates that Olive Garden generated over $3.5 billion in 2022 alone, and its enduring popularity is due to its tasty and reasonably priced meals.
While Olive Garden shines in convenience and flavour, it needs to improve its health. The restaurant offers some nutritious options, but many may contain less wholesome foods. Even ordering its iconic House Salad can be problematic because some dressing choices dramatically increase your sodium intake.
The good news is that Olive Garden offers a variety of healthy options; you just need to know what to pick. Let's look at some of the healthy menu options that Olive Garden provides.
1. Zoodles Primavera with Breadstick  
The Zoodles Primavera, which has 570 calories for a dinner portion, is one of the popular choices at Olive Garden. Eating a lot of veggies while dining out might be challenging, but this dish provides a staggering five servings.
'Pasta' is something you can eat and enjoy. Zucchini noodles in place of spaghetti with a rainbow of vegetables thrown in as a bonus. Unlike a typical pasta dish at a restaurant, which tends to be heavy in calories and carbohydrates, this dish is low in both because of the large quantities of vegetables and the high fibre content of the plate.
2. Chicken Giardino Served With a Side Salad
The Chicken Giardino, which has 530 calories, has everything you need from a restaurant meal: a decent supply of protein to help you feel full, as many different veggies as possible to provide a range of antioxidants and other vital nutrients, and a lighter sauce.
Not to mention, the vibrant colours of the vegetables are sure to appeal to your sense of taste. A side salad with low-fat Italian dressing is available for an additional 30 calories.
3. Lunch Favorite Fettuccine Alfredo
You can order the lunch Favorite Spaghetti served with Meat Sauce, which is about 360 calories. This dish is an excellent example of Italian cuisine's ability to satisfy cravings without exceeding quantity.
For an appetiser, order the Famous House Salad, which is 70 calories without topping and comes with olive vinegar and oil. It may be difficult to resist the breadsticks, but you can rest easy knowing that your pasta will come with many other tasty carb options.
4. Grilled Chicken Margherita
Grilled chicken and broccoli with no added carbs make this a great recipe for dieters. Also, the high protein content helps keep you feeling full for longer.
The level of trans fat in each meal is something to remember when dining at Olive Garden (and many other restaurants). After this lunch, you will have little wriggle room if you stick to the American Heart Association's recommendation of at most 13 grams of saturated fat daily. 
Even though it's still less expensive than many of their other menu items, this dish's chicken, broccoli, and tomatoes will give you a healthy nutritional boost.
5. Angel Hair With Marinara
Anyone with food allergies or other dietary considerations can benefit from Olive Garden's "Build Your Own Pasta" menu item. You can order the Angel Hair Spaghetti with Marina Sauce if this is appealing.
When cooked, pasta forms a low glycaemic matrix that supplies protein, energetic carbs, and other nutrients, and it requires only two ingredients to make. Pasta with marinara sauce is acceptable if you do it sparingly.
The marinara is filled with lycopene, owing to the stewed tomato. This plant has been connected to a variety of health advantages. It is well-documented that the antioxidant properties of lycopene aid the body in its battle against free radicals. In addition, it has been shown to reduce cholesterol levels.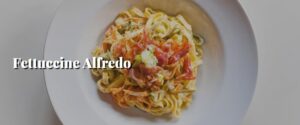 6. Fettuccine Alfredo
You should have the lunchtime staple fettuccine Alfredo if you have a penchant for pasta smothered in cheese (650 calories). With 610 milligrammes of sodium, you won't exceed 700 calories.
7. Minestrone Sauce, House Salad, With a Breadstick
Vegetarians can enjoy the Minestrone Soup (about 110 calories) because of its substantial vegetable content and the inclusion of northern beans, which offer vegetarians a source of plant-based proteins. 
You can order a salad and a breadstick in addition to the soup because of its few calories. You can have an impressively low-calorie restaurant lunch by sticking to a salad, a breadstick, and a bowl of soup.
You may have a tasty dessert without straining because there are many options. The Dolcini might be a good option — perfect for serving dessert.
8. Salmon Piccata and Broccoli
One of the best options for health and flavour at Olive Garden is the Fish Piccata (roughly 570 calories). The meal's 45 grammes of protein and vital omega-3 fatty acids will keep you going. 
The DHA omega-3s found in salmon and other fatty fish are crucial for maintaining cardiovascular, nervous, and visual function. Although few individuals get the two or three meals of fatty fish each week that experts say is essential to good health, you can get your fill of it when dining out.
You can swap out the parmesan-crusted zucchini (80 calories) for a side of steamed broccoli (about 35 calories) to lower the meal's total calorie and fat content and increase the meal the intake of non-starchy veggies.
9. Shrimp Scampi
You can avoid pasta entirely if you're trying to eat healthily at this Italian restaurant. Try the Shrimp Scampi if you're looking for a lighter pasta dish that's still satisfying and filling.
While this dish has a more excellent carbohydrate content than others on the menu, such as the salmon and Margherita dish, it includes a healthy mix of veggies, carbohydrates, and protein. Even though you may improve the vegetable-to-carbohydrate ratio, the larger carbohydrate count can be helpful if you exercise frequently.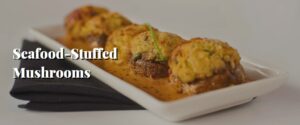 10. Seafood-Stuffed Mushrooms  
If you're a health-conscious eater who values flavour over calories, dinner at Olive Garden is a breeze. Here is where the seafood-stuffed mushrooms (370 calories) come into play. This seafood meal is sure to please with its generous shrimp, scallops, and crab helpings.
As Brown-Riggs points out, shellfish has a poor reputation because of its link to heart disease and high cholesterol. Nonetheless, despite the common perception of the opposite, you can include shellfish in a low-cholesterol diet. Seafood like prawns, scallops, and crabmeat is a great way to reduce cholesterol because it's low in calories and omega-3 fatty acids.
Mushrooms are an excellent source of fibre, which is often lacking in the diets of the average American. You can remove some cheese covering from the filled seafood mushrooms to make them even more nutritious.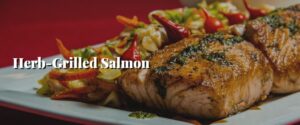 11. Herb-Grilled Salmon  
At first look, this dish doesn't seem like the healthiest option due to its high-fat level, but upon considering its origin, things change.
Although it has a more extensive fat content than the other items on the list, it is a good source of omega-3 fatty acids, a vital nutrient for maintaining good mental and physical health. Specifically, omega-3 polyunsaturated fats have been shown to benefit cardiovascular health, irritation, and cancer prevention.
This Olive Garden meal, like many others on the menu, contains a lot of sodium, so be careful about how much salt you eat for the remainder of the day.
The Lowest Calorie Appetizers at Olive Garden Restaurant
The Stuffed Ziti Fritta from Olive Garden has 500 calories, which is okay when divided between two or four people.  
If you're not a sharer, you can also get by on the 140 calories in one breadstick and the 70 calories in marinara.
Nevertheless, if you add the Alfredo sauce, you'll be adding 870 extra calories.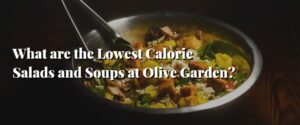 What are the Lowest Calorie Salads and Soups at Olive Garden? 
The House Salad, with no dressing, is the lowest calorie alternative at the Olive Garden, with only 70 calories, and is included along with most dishes.
However, for those craving soup,  Minestrone is your best option at Olive Garden; it has only10-calorie.
Order the Minestrone, the House Salad with Low-Fat Dressing, and a piece of breadsticks with Marinara sauce for a 570-calorie meal.
What is Olive Garden's 'Create Your Own Pasta' Dish With The Lowest Calorie?
The Olive Garden's Make-Your-Own-Pasta selection provides a convenient approach to managing your calorie consumption.
Calories can vary from 530 to 1300 depending on your pasta form and sauce.  
The Spaghetti with Marinara Sauce (150 calories) is the best option because it has the fewest calories per serving (340 vs. 440 for the Rigatoni). The calorie count there is only 390.
You should also think about the salad, which contributes another 70 calories.
Avoid the breadsticks, or at least limit yourself to one.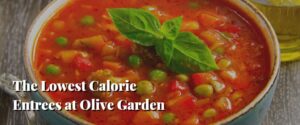 The Lowest Calorie Entrees at Olive Garden
Most Olive Garden meals have more than a thousand calories on their own, without counting the complimentary salad and breadsticks coming with every order.
Despite this, this section of the Olive Garden menu features some of the restaurant's healthiest offerings, such as the Steamed Fish with Broccoli (460 calories).
Remember, though, that the Salmon is served with two breadsticks and that an additional serving of house salad or soup, depending on your selection, might add 500 calories to your dinner if you need to be more careful.
As a result, the House Salad, with no dressing, is the healthiest option as it contains only 70 calories. There will be an extra 280 calories from the two breadsticks.
Your Grilled Fish plate now has 810 calories, well beyond the 500-700 calorie range recommended by the USDA for a balanced lunch.
Experts recommend omitting one of the breadsticks for a healthy, packed lunch at only 670 calories.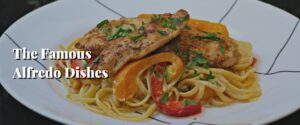 The Famous Alfredo Dishes
You don't need a low-calorie alfredo dish .this is because  Olive Garden's alfredo dishes have more than one thousand calories. The fettuccine alfredo has the fewest calories of any alfredo dish at only 1,310 per serving.
The most excellent calorie count is in the Asiago Tortelloni Alfredo served with Grilled Chicken, which clocks in at 1980 calories (without adding additional sides).
One meal contains nearly all the calories you need for the whole day.
What are the Top Options for Vegetarian and Vegan?
Vegans and vegetarians have many delicious choices at Olive Gardens. The vegan Marinara sauce and Spaghetti from the Build Your Pasta section is the lowest calorie alternative (500 if you skip the toppings), but plenty of other delicious options exist.
The Minestrone Soups and the breadsticks are also both vegan-friendly.
The Vegan salad is available upon request and comes dressed in olive oil with no croutons.
Olive Garden's nutrition data is vague on this item, but it's probably around 110 calories, which is what the gluten-free salad is.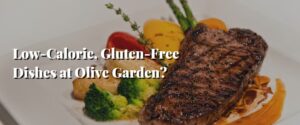 Low-Calorie, Gluten-Free Dishes at Olive Garden?
A segment of the menu is safe for gluten-free diners at Olive Garden.
This signifies that there is no gluten in the ingredients themselves, but if you have a health reason for refraining from gluten, you should double-check with your server to ensure these dishes are safe to eat.
If you have gluten sensitivity, the 6oz Sirloin Steak, Steamed Salmon, and Gluten-Free pasta are your best bets for reducing your calorie intake. There are 530 calories in a serving of Gluten Free Rotini Marinara.
Each includes soup and a 110-calorie salad without the crouton.
In Conclusion 
Just because you're eating at Olive Garden doesn't mean you have to overindulge. Diners who make healthy decisions won't have to choose between satisfying their hunger and maintaining their health goals. Most of the foods on the menu, including salads, soups, and pasta, come in at under 600 calories. 
Go for grilled protein, pasta, and a low-fat dressing to limit calorie intake. You can reduce your calorie intake by eating steamed vegetables or a side salad instead of high-calorie dishes. Nevertheless, with little forethought and careful choice, you can stay on a low-calorie diet and have a satisfying lunch at Olive Garden.