Among life's basic joys is eating ice cream. It doesn't matter if it's summer or winter, morning or night, because ice cream is always a fantastic idea. Various ice creams, including dairy, coconut, soy, and almond, are available.
But ice cream was always among those foods you should eat less of. Unfortunately, watching our sugar and calorie intake is unhealthy for most of us but still adore a big can of ice cream.
The good thing is that various "healthy" ice creams with a higher content and low-calorie counts have entered the market in recent years.
You might believe these healthier options can't compare to the genuine thing, but several brands are available where you won't tell the two apart.
For the past few years, I've been avoiding dairy products and managed to suppress my cravings for dairy ice cream.
Now, let's revisit the topic of nutritious ice creams. Is it something that people use? Well, by the standards of any nutritionist, the ingredients in ice creams may not be healthy, regardless of whether they are lower-calorie or higher-protein.
Any substitute for the "genuine deal" with natural sweeteners and fewer calories is preferable for your waistline and weight loss.
Most modern ice creams are lower in fat and sugar than their predecessors, and many are higher in fibre and protein. Don't be fooled by the "lower calorie" label; not every ice cream is produced the same, and some include questionable additives.
What, exactly, is in ice cream that claims to be lower in calories, higher in proteins, and "healthy?"
What's in Higher-Protein, Low-Calorie Ice Cream?
The ingredients in basic ice cream are simple and easy to identify: sugar, egg yolk, cream, milk, cream etc. Some high protein and lower-cal ice cream ingredients are completely foreign to the average consumer.
Protein: Milk protein isolate is a common source of protein, though this varies between brands.
Stevia: Stevia is derived from a very sugary herb. In terms of sweetness, it is roughly one hundred times that of sugar, but it has no nutritional value.
Erythritol: Sugar alcohol that the human digestive system does not metabolise during digestion and therefore has no calories. Although it is safe to eat, it may give some people stomachaches.
An additional sugar alcohol is xylitol.
Prebiotic fibre: Many low-calorie ice creams use prebiotic fibre (inulin) to increase their fibre content and make them more appealing to health-conscious consumers. They add substance to ice creams and improve their overall texture without adding extra calories.
Vegetable gums: These are composed of indigestible polysaccharides and are unsuitable for human consumption. Due to their smoothness and ability to extend a product's shelf life, they are frequently used when processing foods.
Ice cream with High Protein Content vs. Low-Calorie Ice cream
Not every low-cal ice cream possesses a lot of protein. However, higher-protein ice creams have fewer calories than regular ice creams. Does that make sense?
Unfortunately, high-cal ice creams are still hard to come by in Australia. However, there are many available options in the United States.
Australia's Finest Higher Protein, Low-Calorie Ice Creams
Here is a selection of "good" ice creams that are readily available across Australia but still manage to keep their calorie low and protein counts high.
For uniformity, we've selected only chocolate options and expressed macro figures per 100g. Here's some more information you should have about them.
1. FroPro Chocolate Ice Cream
FroPro is an Australian-made product exclusive to Woolworths supermarkets. Because it's among the healthy lower-cal ice cream alternatives, this brand is made from only natural ingredients and is gluten-free!

2. Fit Lato Ice Cream (Chocolate)
The founder of the Australian company Fit Lato is both a fitness and health expert and a pharmacist. Jane Morgan has a profession as a pharmacist and is a former Australian national junior hockey team member.
Along with engineer and co-founder Indika Liyanage, they pooled their expertise, interests, and motivations to develop a luxurious product that is both healthy and delicious.
Dairy-free and gluten-free selections are available at Fit Lato. Two hundred and sixty distributors are selling Fit Lato throughout the Eastern Coast in Australia.
3. Double Chocolate Chip Denada Ice Cream
Denada is a well-liked ice cream that uses only natural ingredients and only 1% sugar. It's gluten-free, lower-carb, and lactose-free (has dairy-free alternatives). For the most authentic ice cream flavour, I recommend Denada.
4. Over The Moo Chocolate Ice Cream
This brand provides a vegan and gluten-free ice cream that contains no dairy. It's the best ice cream alternative for people with food allergies. You can find it in IGA, Woolworths and even certain mom-and-pop stores.
5. Choc Brownie By Tilly's
Tilly's is an upcoming Australian ice cream brand owned and developed in Australia. It can only be purchased at Woolworths.
Tilly's advertises itself as containing 300 cal/tub, similar to competing brands, though this varies with flavour. Tilly's also boasts of no sugar substitutes in their frozen treats.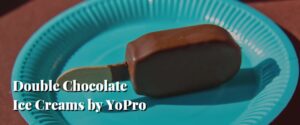 6. Double Chocolate Ice Creams by YoPro
Although its higher-protein yoghurts are more well-known, Yo Pro also produces higher-protein ice cream.
They boast that their products are completely natural and free of nasty additives like sugar and preservatives. In their own words, their product is "formulated with the highest quality components and the most natural methods available for fueling professional athletes equally."
7. Brownie Batter by Halo Top
In addition to having among the widest selections of flavours and clocking in at roughly 300cal/ tub, Halo Top is readily available at most major supermarkets.
Flavours such as peaches and cream, candy bars, and birthday cake are available in addition to the usual suspects like chocolate, cookie dough, mint chip and vanilla.
Those with dairy allergies can choose from Halo Top's dairy-free flavours, like toasted coconut, salted caramel and caramel macchiato. Some of these flavours are also gluten-free.
You can get the nutritional breakdown and a list of stores that sell Halo Top for roughly $10 on their website.

8. Gym Bod Ice Cream (Chocolate Pudding)
Gym Bod makes higher-protein ice cream and other "Better-For-You variants" of your favourite sugary delights.
In 2018, the company's founders spent their weekends in a garage in Toowoomba, Queensland, combining different mixes of Protein Power to produce a lower-carb, higher-protein soft serve.
9. Noway Double Chocolate Chip Ice Cream
Creamy-like healthy ice cream without the calories and the added dairy Noway®Frozen Desserts is a delicious alternative.
It's low in calories and high in protein, with the only drawback being that you can't buy it online right now. Unlike other nutritious ice cream alternatives, this dessert doesn't use milk or high-dairy alternatives; it's also gluten-free and created using coconut cream.

10. Famous Ice cream by Ben & Jerry's
Ben & Jerry's is the healthier option of ice cream for people who want something sweet without guilt, and it's also among the more costly selections at the supermarket due to its wide variety of flavours.
Those concerned about their environmental impact may choose to consider Moo-phoria flavours of ice cream, which are manufactured with non-GMO components, cheese and organic milk, sugar and Fair Trade vanilla.
A 460ml Ben & Jerry's ice cream tub can save you over 10 dollars at most supermarkets and independent grocery stores.
11. FroPro
FroPro, an Australian- made and owned pioneer in the 'good for you' ice cream sector, is exclusively available at Woolworths supermarkets.
FroPro costs 10 dollars for a 520ml tub and comes in various flavours, including peanut butter, toasted coconut, salted caramel and chocolate.
FroPro ice creams are a healthier alternative because they are gluten-free and created with all-natural ingredients. The full nutritional breakdown and ingredient list are available on the company's website.

12. Halo Top Chocolate Ice Cream
In addition to having one of the widest selections of flavours and clocking in at roughly 300 calories per tub, Halo Top is readily available at most major supermarkets.
Classic flavours like cookie dough, mint chip and chocolate, and mint chip are available, as are more unique options like birthday cake, candy bar, cream and peaches.
Those with dairy allergies can choose from Halo Top's dairy-free flavours, including toasted coconut, salted caramel and caramel macchiato; some of these flavours are also gluten-free! You can get the nutritional breakdown and a list of stores that sell Halo Top for roughly 10 dollars on their website.
13. Over the Moo
The brand is a relatively new ice cream company that caters to lactose-intolerant people by offering non-dairy ice creams. These ice creams are also gluten-free and vegan-friendly, making them a great choice for people with food sensitivities.
The flavours are all the standards, like cookies, caramel, cream, mint and vanilla and chocolate, and you can get a 500ml tub of them at IGA, Woolworths and other supermarkets. Depending on the store, you may expect to pay anywhere from 10 dollars and over for a tub.

14. Skinny Cow
Skinny Cow, sold under the Peters label, is available in sundaes and ice cream cookies, so you can switch things up for dessert.
You can choose cheesecake, double chocolate, strawberry, triple chocolate, vanilla caramel or passionfruit for your sundae and mint or vanilla for your ice cream cookies. They come in convenient four-packs of each flavour.
If you're looking for a cheap ice cream option, an assortment of ice creams from Skinny Cow will only set you back about $6 at most big supermarkets. You can check out the nutrition facts and ingredient lists on the company's website if you're undecided about which products to buy.

15. Protein Pantry Ice Cream
'The' Protein Pantry, no 'My' Protein Pantry, can be purchased from various retail outlets, including IGA supermarkets, gas stations, and convenience stores; a store locator can be found on the company's website.
This brand of ice cream only has three flavours — salted caramel, dark chocolate and mint choc. Still, they are available in 175ml packs and wrapped-up ice creams, making them a convenient solution for individuals on the road craving something sweet.
These protein ice creams can be purchased for roughly 5 dollars, which is significantly lower than the prices of competing brands (though this is to be expected, given the smaller serving size).
16. Tilly's
Tilly's is an Australian-made and -owned ice cream brand new to the market, intending to distinguish itself as a lower-calorie alternative to the competition.
Tilly's is sold exclusively at Woolworths and comes in 475ml packages in three flavours: vanilla fudge, salted caramel and chocolate brownie.
Like most brands, Tilly's claims about 300 cal/tub, give or take a few, depending on the flavour. Nutritional data and a list of ingredients are accessible on the company's website, where it is also stated that the company's ice cream does not use any artificial sweeteners.

17. WheyWhip
WheyWhip is sold in 200mL tubs and 500mL tubs in Foodworks, IGA and supermarkets for around 9 and 10 dollars, respectively. Flavours include chocolate nut, coconut mango, chocolate, mint chocolate chip, salted caramel and peanut butter chocolate nut.
If you need a gluten-free selection, you'll need to verify the packaging since the company's website doesn't mention ingredients or allergens. WheyWhip makes a variety of protein balls, in addition to ice cream, as a post-workout reward.
18. Sticks Beans, Vanilla, 4-Pack
Do you need a milky treat? Enjoy your sweet tooth with a bowl of this vanilla-flavoured ice cream. With only 11 grams of fat, 0.9 grams of carbs and 4.3 grams of protein for every serving, this popsicle is perfect for those following a ketogenic diet.
You can indulge your sweet taste without feeling guilty because it contains cream and milk manufactured from natural ingredients.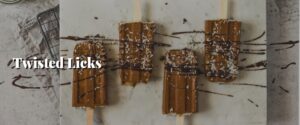 19. Twisted Licks
This popsicle is a chocolate lover's dream with its combination of coconut milk and oh-so-cocoa sweetness. You can safely reduce your carb intake to 1.9g, protein intake to 5.3g, and fat intake to 13.6g daily. For those who enjoy frozen chocolate treats, this is the right solution.
20. Denada Tub of Vanilla Flavoured Ice Cream
It would be wonderful to have a tub of vanilla-flavoured Ice Cream. In just one serving, this Denada sweet offers 3.4 grams of protein, 9.4 grams of fat, and as few as 1.3g of carbohydrates.
For those on a ketogenic diet, this milky treat can help them get the fat they need without compromising on flavour. However, be careful not to exceed your daily macros by eating one entire tub.

21. Cup of Mint Chocolate Chip Ice Cream
It's another of Denada's tasty treats; you won't believe how well chocolate and mint mix. Great flavours meet a keto-friendly flair in this scoop of ice cream with only 2.7 grams of protein, 0.7 grams of carbs and 9.7 grams of fat per serving.
If you do not like scoops, a three-pack of chocolate mint-flavoured popsicles costs just 11.50 dollars. Moreover, it has a natural flavour that combines the best of mint and chocolate.
22. Peanut Butter Tub of Ice Cream
Couldn't get enough of peanut butter's delicious crunch and nuttiness? Good fats are now available in nutty-flavoured ice cream. This delicious treat won't ruin your ketogenic diet, and it's full of creamy peanutty goodness.
There are only 1.4 grams of carbohydrates,9.7 grams of fat and 3.4 grams of protein in one serving of this ice cream. You will never forget how this 100% Australian-made treat satisfies your ice cream and peanut butter needs.
23. Three Pack Almond Vanilla Candy Corn
Do you crave vanilla-flavoured ice cream and a dash of almond nuts wrapped in chocolate? You'll get a satisfying crunch from the chocolate and a smooth, creamy vanilla aftertaste with each chew.
Adding almonds rounds out the flavour profile well; who doesn't like almonds, chocolate and vanilla mix? One tasty popsicle contains 3.7 grams of protein, only 4.2g of carbohydrates and 14.9 grams of fat.

24. Denada Mango Split Flavoured Ice Cream
The flavour combination of fruit and milk will satisfy your taste buds. With just the right sweetness and creaminess, this frozen treat is perfect for satisfying your craving for something fruity.
One of your keto pals' favourite treats is Denada's mango-flavoured dessert, which is delicious and perfectly tailored to your diet. There are only 2g of carbohydrates, 8.1 grams of fat and 3 grams of protein per serving, making it an excellent choice for a ketogenic diet.
Keep in mind that only certain ice creams are appropriate for ketogenic diets. Even though it has fewer carbs and sugars than alternatives, the key to a successful diet is the amount of fat it provides.
It is important to read the nutrition labels because not all "healthy" ice creams are appropriate for your diet.
It may surprise you, but you can indulge in a frozen dessert even after a keto meal. You should not get used to just one taste because there are many choices. But watch out; you must ensure you eat the proper amount daily to satisfy your cravings.
How Many Calories Are in Ice Cream?
At first appearance, lower-calorie ice cream and standard ice cream appear to have similar calorie counts. Bulla Chocolate Chip ice cream, a popular choice in Australia, contains 108 calories and 11.8 grams of carbs per serving.
It's very much like reduced-calorie ice creams. However, watch out and be mindful in controlling your portions. The serving size of Bulla's Chocolate Chip ice cream is 47 grams, while the serving size for most lower-calorie alternatives ranges from 60 grams to 85 grams.
For instance, a Halo Top Choc ice cream serving is 85 grams and has 100 calories and 18 grams of sugar. This means lower-calorie ice cream may have half as many calories as ordinary ice cream. But if you watch your portions and read the label, normal ice cream doesn't seem detrimental compared to lower-calorie alternatives.
Popular Picks
Halo Tip, FroPro, Tilly's and YoPro are the most popular high-protein, lower-calorie ice creams, as voted on by users of the low-calorie living subreddit r/1200 Australia. Denada is my favourite because it comes closest to the real thing regarding flavour, although Halo Top is a close second.
Available Gluten-Free & Vegan Alternatives.
Most of the mentioned ice creams also come in vegan and gluten-free varieties; you only have to check the label. This is because they don't use animal products, and almost none of their ingredients contain gluten. Over the Moo is an excellent choice for vegans.
Should I Start Buying Frozen Treats That Are More Healthy?
Nutrition is a complex topic because everyone has unique nutritional needs. While everyone seems to know someone who can eat endless amounts of food without gaining weight, the rest must exercise caution regarding treats and sweets.
Ice cream's high sugar and fat content may make it tempting to indulge on hot, lazy days, but doing so may sabotage your efforts to achieve your ideal figure.
Individuals just starting on a quest to lose weight or those who can't control their sugar cravings may find lower-calorie, healthier ice creams to be a desirable option.
If you're counting calories, you should know that Halo Top, Tilly's and FroPro all have roughly the same calories, while brands like WheyWhip and FroPro give the greatest protein content of the contrasting brands.
Your cravings and preferences should ultimately guide your dietary decisions, but before making any significant adjustments, it's wise to talk to your doctor or a nutritionist.
How do I know whether an ice cream is "healthy"?
Walking around the freezer section at your local supermarket, you will notice many labels promoting low-fat alternatives. First impressions can be deceiving, but checking the nutrition facts will reveal the truth.
Some 'lower-fat' products aren't necessarily healthier than others since they use a lot of sugar to compensate for the lack of fats. This is to maintain that flavour and creamy texture we enjoy while consuming fewer calories.
If you're looking for more nutritious ice cream, Choose one with fewer calories, fewer carbohydrates, and some protein.
However, don't let the calorie counts on the packaging fool you; certain ice creams contain substantial sugar, meaning you'll get all your calories from undesirable carbs and sugars.
Other Low-Calorie Alternatives
Why not try these if you're not a huge ice cream fan or would rather prepare your homemade higher-protein, lower-calorie dessert at home?
You often try to watch your sugar intake because you care about your teeth, but you can't resist sweets. Now the question is, "What should you eat to satisfy your sweet tooth?"
Fortunately, an array of straightforward alternatives exists. As an alternative to sugary treats, try these ten options:

1. Fruit
After all, fruits are nature's sweets. Fruit does include sugar, but this sugar is not equivalent to what you'd find in a typical dessert made from refined cane sugar. Fruits like strawberries, peaches, bananas and melons are great for dental health since acidity is low.
2. Greek Yogurt
You can't go wrong with plain Greek yogurt (no additional sugars or flavours) as a base. You can make a nutritious frozen yogurt sundae by topping it with granola, honey, fruit and nut.
Dairy products and yogurt make excellent healthy snack options since they are high in calcium and contain relatively little sugar.
3 A frozen treat made of peanut butter and bananas
If we're talking about frozen treats, it's easy to whip up a batch with no added sugar. Combine two frozen bananas (cut in half and peeled) with a quarter cup of peanut butter (natural, without added sugar) in your food processor. Blend and serve.
4. Chia Seed Pudding
Chia seed pudding is simple to prepare and lends itself to many variations. Put your best milk and chia seeds into a bowl and mix well. Let the pudding sit in your fridge for around two hours before serving.
You may then top it with whatever you like: fruit, maple syrup, nut butter, honey, coconut and granola, etc.
Chia seeds are rich in Omega 3 fatty acids and are extremely advantageous. Healthline claims they may aid blood sugar regulation due to their antioxidant and high fibre content.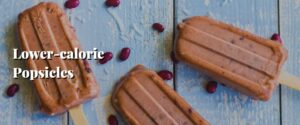 5. Lower-calorie Popsicles
Look in the freezer section of your grocery store, or get creative and make your healthy popsicles! Low-acid fruits like watermelon, strawberries, and mango work excellently when creating your homemade popsicle; To achieve a creamer consistency, add yogurt.
6. Nutty Butter
Cinnamon, honey peanut butter and maple almond vanilla butter are just two examples of the many premium nutty butter currently on the market. This high-protein snack requires very little to serve.
7. Baked Apples and pears
Just a few pears or apples, maple syrup/minimal brown sugar and cinnamon, topped with cream and some granola will take less than 30 minutes to bake and serve.
8. Banana Bites Coated in Chocolate
There is no simpler way to sort out your sugar craving. Put banana slices on a parchment-lined cookie sheet, drizzle with dark chocolate that has been melted (dark chocolate contains less sugar), and freeze for no less than two hours.
9. Homemade Chocolate Truffles
Make rich truffles using coconut milk, dark chocolate powder, avocado and vanilla extract. Enjoy your delicious homemade desserts, without the excess sugar, by getting creative and dirty.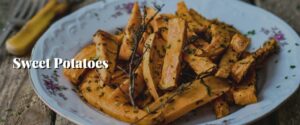 10. Sweet Potatoes
To be fair, this is neither a dessert nor a "treat," but a delicious substitute for a doughnut. These baked sweet potatoes are a great alternative to refined sweets since they are high in natural sugars and fibre.
Adding butter (and salt or cinnamon, according to your taste) will have your mouth watery.
Taking the necessary steps to safeguard your teeth before enjoying any sweet pleasure is crucial. Remember how simple it is to sate your sweet desire without sacrificing your oral health the next time you get a craving.
Conclusion
If you indulge in a scoop of ice cream,higher-protein, lower-calorie varieties are better for you (if you don't mind the artificial sweeteners) than the traditional kind. However, a scoop of ice cream is a sweet, enjoyable snack.
It's something you want to consume sparingly but in moderation. High-protein, low-calorie ice cream must still be healthier than a bowl of homemade banana bites or an apple. In short, don't overdo it and have fun!